Military jet crashes onto highway at Shoreham Airshow, killing 7 motorists (PHOTOS, VIDEO)
Published time: 22 Aug, 2015 12:50
Edited time: 23 Aug, 2015 01:58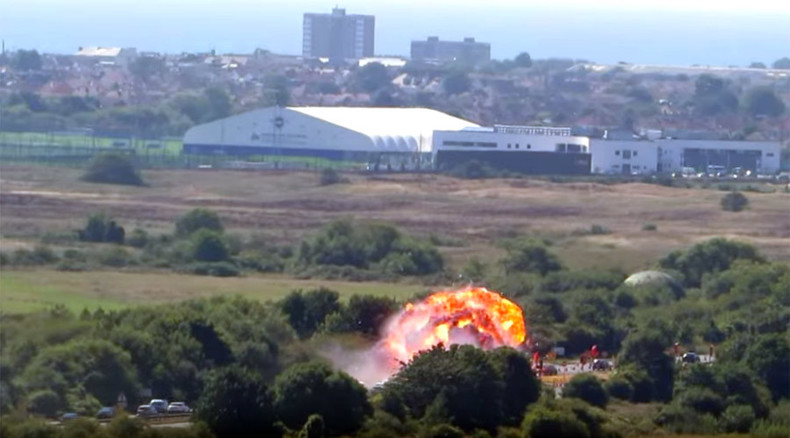 Seven people have been killed after a Hawker Hunter jet pilot apparently lost control of his aircraft while performing a loop at Shoreham Airshow, crashing the plane onto a busy highway in West Sussex.
"As far as we are aware all those who sadly lost their lives were on the road, and it was nobody within the air show perimeter on the actual airport," said Superintendent Jane Derrick of Sussex Police.
Another fourteen people were treated for minor injures at the crash site.
The pilot himself survived but is in a critical condition "fighting for his life" at Royal Sussex County Hospital.
Roads near the site were closed after the incident, and authorities have not ruled out the possibility of more victims being discovered and they are continuing to search the area to "ensure that [they] have identified all the casualties," police added.
The plane that crashed was a Hawker Hunter, a British fighter aircraft. The jet was performing a loop when it crashed at the end of the maneuver, according to eyewitness reports and videos posted online.
The aircraft hit several cars on the nearby A27 highway, before ending up in a bush. All of the casualties occurred on the road, the Royal Air Forces Association confirmed in a statement, adding that no one was injured on the airfield.
"The Hunter came from the airport and flew over us and did a loop the loop to go back around to the airport, but at the bottom of the loop it just seemed to lose power and went into the ground, belly down in a massive ball of flames," Tony Wallace from Shoreham, who watched the crash from nearby Mill Hill told the Independent.
"It went down on the A27 by the lights near the airport. That road has been chockablock all day and we can see stationary cars there now... it looks like a warzone," he added.
"We were waiting for it to go back up and it didn't – it seemed to kind of split in two," Ailish Southall who was driving along the A27 with her two children told the BBC. The eyewitness added that the plane came down across the road from them, so they had to run from their car to avoid the debris.
The organizers of the airshow announced that Sunday's show has been canceled following "a major incident outside the airfield boundary."
While emergency services were responding to the incident, numerous images emerged on social media showing black smoke rising into a clear blue sky from the location of the crash, as well as videos of the last seconds of its flight.
The Hawker Hunter fighter jet was widely used by the Royal Air Force (RAF) in the 1950s, for both reconnaissance and as a fighter-bomber. The aircraft also served a number of international air forces, and was in use until recently. The RAF still uses the jet for training.