Kiev ordered deployment of 'illegal & inhumane' anti-personnel mines – ex-Ukrainian officer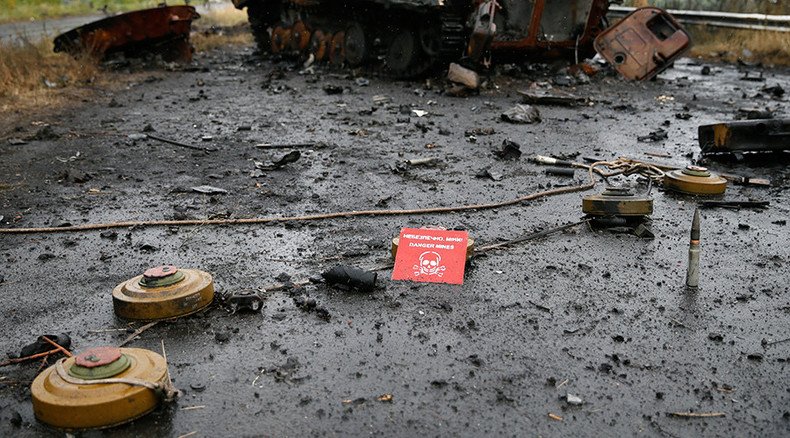 Kiev has been deploying anti-personnel mines in Donbass in breach of Ukraine's own laws as well as international treaties, claims a former high-ranking Ukrainian officer and chief of the engineering service, who refused to obey the "illegal" and "inhumane" order.
In February 2014 Vadim Yatsulyak served as chief of the engineering service of the Interior Ministry of Ukraine, before being appointed as a commander of the Army Corps of Engineers of the National Guard. According to him, one of the first orders he was given in his new role was to receive a supply of anti-personnel mines from military warehouses, that would be later deployed throughout the territory of the so-called "anti-terrorist operation" to reinforce Ukrainian army positions.

"I was given, to put it mildly, inhumane or in legal terms unlawful orders by my superiors," Yatsulyak told Russian tabloid Komsomolskya Pravda (KP) daily. "The deployment of anti-personnel mines in particular."

Yatsulyak explained he was basically told by phone to accept the delivery of OZM-72 and MON-50 munitions and sign for it, while superiors would "stay aside assuming no responsibility."
Refusing to implement the order, he notified his superiors, going as far as sending letters to the Minister of Defence, Ukraine's parliament, and even the president, but "never received a single reply" to more than 85 complaints which he had sent to various ministries and officials. Eventually Yatsulyak was sacked as "unfit" for the position, and later left the country.

Even though he was never ordered to actually install anti-personnel mines, Yatsulyak speculates that Kiev eventually circumvented the law to deploy them, given the number of reports of deadly mine explosions in Donbass.

An order for the transition of "engineering munitions" such as mines between the Ministry of Defense and the National Guard would be coming "very high level," and if properly documented would leave a trail of paperwork, Yatsulyak says. But he does not rule out that the papers could have been destroyed to cover the tracks of the perpetrators.


OZM-72 are Soviet manufactured bounding mine type anti-personnel mines, that according to now retired colonel, "jumps to a height of one meter and strikes manpower within a radius of 25-30 meters." These mines can be activated by a number of fuses, but they are most commonly fitted with a booby trap switch which is activated by a tripwire.
The MON-50 is a directional type of anti-personnel mine that is deployed to wound or kill by explosive fragmentation. It is mounted above ground level on the surface or in trees to give the greatest dispersion of fragments and impact radius.
Both mines are illegal under the international Ottawa Treaty, as they can be indiscriminately activated potentially by non-combatants.
Ukraine signed the so-called Mine Ban Treaty in 1999 and ratified it in 2005. Kiev's deadline to destroy anti-personnel mines stockpiles passed on 1 June 2010, but as of 2015 over 5 million anti-personnel mines remained in its warehouses.
In its technical briefing note released in April this year, Human Rights Watch (HRW), reviewed the types of landmines documented in the Ukraine conflict since early 2014, specifically focusing on antipersonnel mines.
"While it is clear that antipersonnel mines were used on a limited and localized scale, it is not possible at this time to concretely determine the responsibility of any party for using antipersonnel mines," HRW concluded.
READ MORE: Ex-IDF fighter with E. Ukraine rebels says she is after 'fascist, pro-Nazis and oligarchs'
But as reports of their use in Donbass region keep surfacing, experts interviewed by RT seem to agree that anti-personnel mines could have easily been deployed by Kiev's forces.
Yatsulyak's allegations are "plausible" professor of politics at the University of Rhode Island, Nikolai Petro, told RT. "There have been prior suggestions by international organizations that watch over the placement of such mines, that they are being used in this conflict, so it is certainly possible."
Although the Ottawa Treaty does offer "an exception" for the use of these weapons in the "state of war" and "specific combat situations," Petro pointed out this is not the case, because "this is essentially a civil war, internal battle."
Even Kiev itself keeps referring to its military operations in the east of the country as an "anti-terrorist operation," which according to the country's own laws must performed by anti-terrorist units of the Interior Ministry without the participation of the army.
Implementing illegal munitions, Petro says, would suggest that Kiev is not planning to "exert control over that area" and expects it to fall into "enemy hands." Such a plan to "give up" on the region would certainly raise a debate in Ukraine, but Petro does not expect the official reaction to go beyond assurances that "the matter is under investigation."
Indeed, the Ukraine National Guard press service told RT that "as of yet [they] can neither confirm, nor deny this information," adding that they first "need to check the documents issued at that time."
You can share this story on social media: