Ex-IDF fighter with E. Ukraine rebels says she is after 'fascist, pro-Nazis and oligarchs'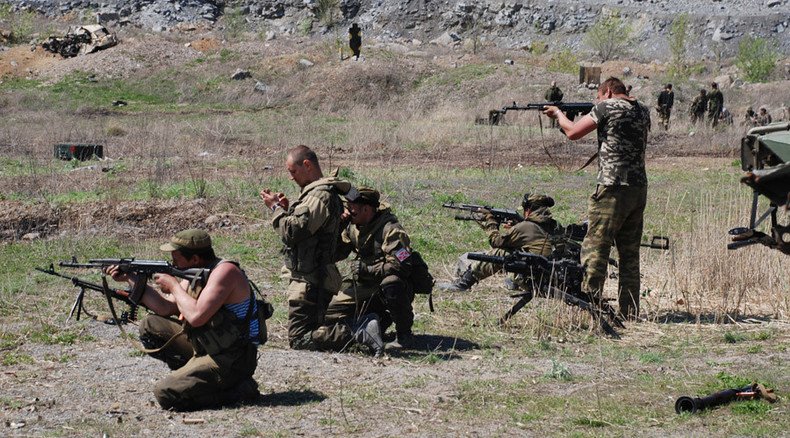 An Israeli ex-IDF soldier fighting alongside rebels in eastern Ukraine has told the Jerusalem Post that she is battling against "pro-Nazi activists" who torture and murder civilians and soldiers alike.
Ina Levitan, 37, a Tel Aviv resident who was born in Baku, Azerbaijan, said she has been in the conflict zone near the city of Lugansk since late 2014.
She decided to go to Ukraine to find her friend who disappeared there. When Ina finally found him, she decided to stay in the hotspot to investigate the conflict.
"After a month and a half I decided to go to Novorossia," she told the Jerusalem Post. By Novorossia (Novorossiya) she meant the self-proclaimed Donetsk People's Republic (DPR) and Lugansk People's Republic (LPR) in eastern Ukraine.
According to Ina, she chose to side with the rebel forces when she learnt of "crimes carried out against the civilian population."
She told the paper that she sees the conflict as a "huge political game," in which oligarchs are trying to get rich at the expense of common people.
READ MORE: 'United Continent': European volunteers fighting Kiev troops in Eastern Ukraine
Ina wrote an open letter to the Israeli Communist Party, in which she said she is not planning to enter the conflict, but is eager to "fight against the fascist, pro-Nazis and oligarchs."
According to the ex-IDF fighter, she is against "pro-Nazi activists" who are "torturing and murdering civilians and soldiers of the army of Ukraine who do not share their views."
"I myself saw a man who returned from captivity in the hands of neo-Nazis. They cut limbs and tattooed his body with swastikas. We are fighting against these atrocities that occur repeatedly and harm civilians," she said as quoted by the Jerusalem Post, adding that as an Israeli she "personally, viscerally hates fascists."
In 2014, the foreign minister of the Donetsk People's Republic (DNR), Aleksandr Kofman, told Russian media that there are dozens of former IDF soldiers fighting alongside the self-defense forces in Donetsk.
In May, the DNR Defense Ministry also revealed ex-IDF troops were fighting with Kiev forces against the rebels.
The conflict in eastern Ukraine began in April 2014 after Kiev sent its troops to suppress the Donetsk and Lugansk Regions, which refused to recognize the new coup-imposed authorities in the capital. Some 6,832 people have been killed and at least 17,087 injured in the fighting in eastern Ukraine, according to UN estimates.
You can share this story on social media: