Russian vertigo-defying 'rooftopper' backflips on the edge of a 101-story building (VIDEO)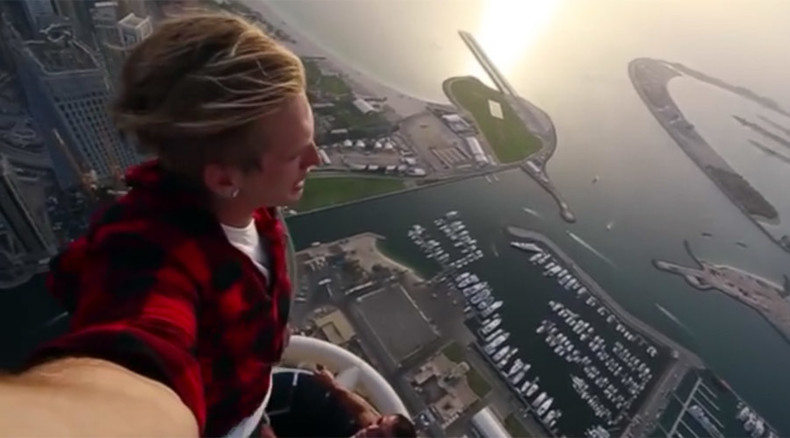 On top of Dubai's second highest skyscraper, a Russian daredevil backflips, with only a strip of steel dividing him from a 400-meter fall.
The adrenalin addict from the city of Yekaterinburg, 24-year-old Oleg Sherstyachenko, who calls himself OlegCricket, has more than once shocked the internet with his risky stunts performed at unbelievable heights.

In this latest video the 'rooftopper' does backflips on a narrow concrete block on top of Dubai's 414 m (1,358 ft) Princess Tower, which standing101 storys tall, is the world's second highest residential construction.
"At the time of shooting I felt fine. I was not thinking about fear or any other emotions – there was no time," Oleg Sherstyachenko told The Daily Mail. "Most people react – and will react – negatively, but they don't understand the other side of my thinking."
"They are taught that it's scary, and something people are accustomed to, but it's a different philosophy to know what I'm doing."
In another piece of footage, just as vertigo-inducing, Oleg can be seen holding his friend's arm and swinging back and forth at the height of a 40-story building in his home town, with no sign of special gear that could save him from plummeting down to earth.
Photos of Oleg doing a two-handed balance on the edge of another high-rise building, this time in Hong Kong, also awed his newly-gained 100,000 Instagram followers.
Oleg has organized a show for young men from Yekaterinburg, keen on free running, stuns and heights. More than three dozen professional acrobats, stuntmen and dancers took part in the Bankai Organization show produced by OlegCredit. They have already visited the United States, France, UAE, China, Germany and India.

Sherstyachenko learned his stunts all by himself ten years ago when he saw a movie, called Yamakasi, which tells the story of seven sport nuts, dedicated to parkour.
You can share this story on social media: