Drunken military rampage through Siberian city in armored vehicle (VIDEO)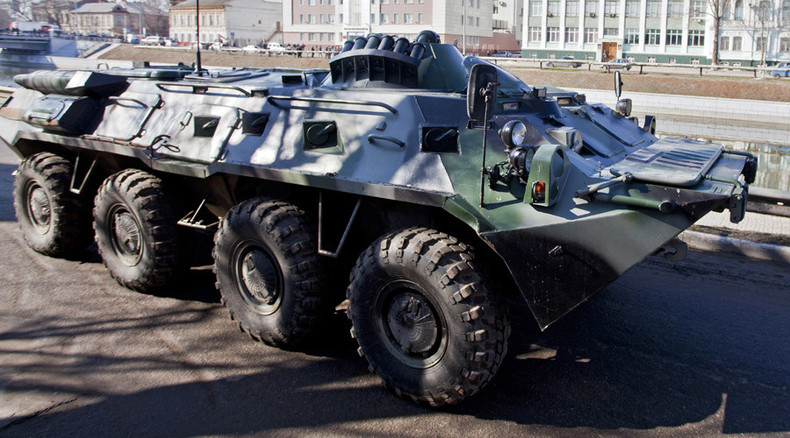 An armored personnel carrier (APC) was drifting along the streets of the Siberian city of Chita, crossing the path of oncoming traffic. It was stopped by police, who reportedly had to use a sledgehammer to make the two drunk military get out.
A Lifenews video, posted online, shows part of the police chase.
The APC was stopped in a courtyard of an apartment block Tuesday overnight, but the military inside the vehicle refused to leave it.
Officers resorted to using a sledgehammer to break the window to pull the two men, who were wearing military uniforms, from the vehicle, local media reported.
Both were showing signs of alcohol intoxication.
A witness told the Chita.ru news agency that before being stopped by police the vehicle entered a playground and "profoundly" damaged the fence around it.
Both the passenger and the driver, who didn't even happen to have a license to drive an armored vehicle, were taken to a military commandant's office.
"After conducting a medical examination and establishing the fact of the alcohol intoxication, the servicemen who drove an armored vehicle in Chita will be dismissed from the Russian Armed Forces by the decision of the commander of the Eastern Military District," the press service of the Eastern Military District told TASS. It added that the officials whose negligence caused the incident would also bear personal responsibility up to dismissal in accordance with the military regulations.
According to one version, the APC was driven by two majors who were going to the military drills within an army convoy, but lagged behind because of the vehicle breaking down. Another version suggests that they were soldiers from a nearby military base who drove the APC away.