Anti-Amazon-logging: 500,000 ants 'rally' in German zoo for Merkel to protect rainforest (VIDEO)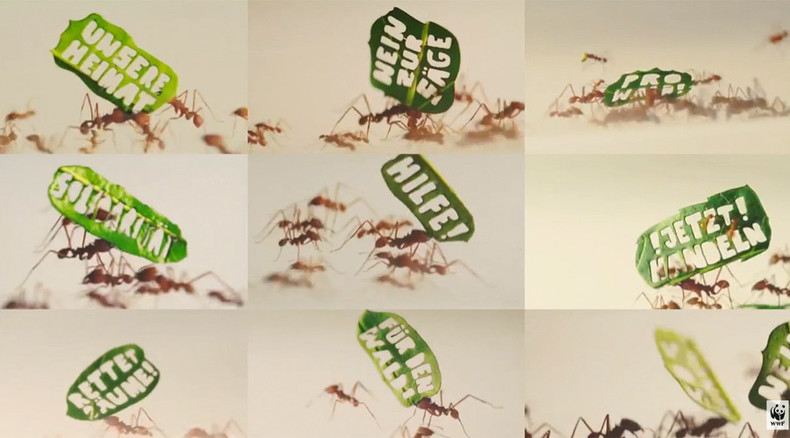 A most unusual rally took place at a zoo in Cologne, Germany, with more than half a million ants marching to protect the world's biggest rainforest ahead of Chancellor Angela Merkel's trip to Brazil.
The march, organized by concerned German ecologists from the WWF conservation group took place on Tuesday. The leafcutter ants, originally brought from the Amazon rainforest, carried signs made of leaves with various slogans such as "Save the Amazon", "Our homeland", "Say no to saws" and "Help, Merkel," all carved by activists.
The event was designed to draw Merkel's attention to the deforestation of 'the lungs of the planet' before her meeting with Brazilian President Dilma Rousseff on Thursday.
"The German government should use this meeting to redouble collective efforts at protecting the Amazon tropical forest," said Christoph Heinrich, a board member of WWF Germany, as cited by the German edition of the Local.
The conservationists accuse agriculture, mining and energy industry groups in Brazil of destroying large areas of Amazon forest and buying up territories of animal habitat. Some progress in protecting the Amazon forests has already been made with financial support from Germany.
READ MORE: Structure taller than Eiffel Tower built in middle of Amazon (PHOTOS)
The soaring problem of deforestation and illegal mining in the Brazilian Amazon River Basin, which is home to the largest rainforest in the world, has long been a matter of concern to ecologists globally.