'Tweezer' molecule can block HIV in semen, study says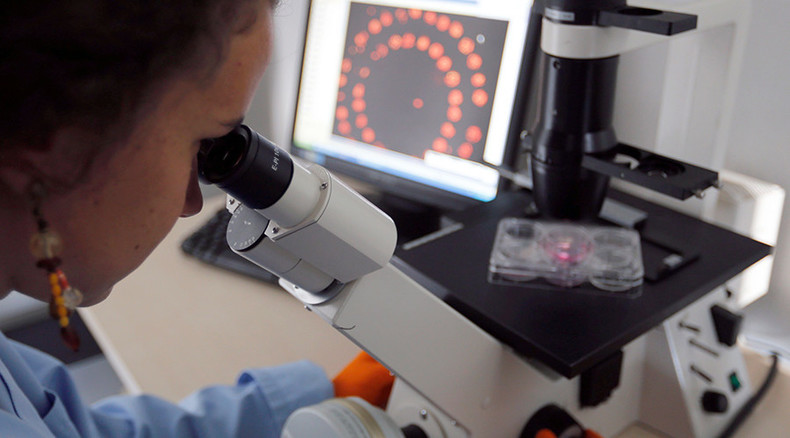 A US-German team of scientists has successfully tested a tweezer-shaped molecule which can be effective in preventing HIV transmission.
The molecule called CLR01 has been presented by the researchers from the University of Pennsylvania (USA) and Ulm (Germany) in a study published in the journal eLife on Tuesday.
CLR01 is effective in HIV prevention as it blocks the activity of special polymers in semen called 'amyloid fibrils' which enhance HIV infectivity as the virus attaches to the membranes of human cells with the help of this structure. The "molecule tweezer" can disrupt fibril formation as well as disassemble those already formed.
The discovered molecule can also target the virus itself by destroying its membrane. At the same time CLR01 does not affect the membranes of other cells which makes it safe to use.
The scientists expect to engineer CLRO1 into vaginal or anal gels.
"We think that CLR01 could be more effective than other microbicides that are in development because of its dual action, its safety in terms of side effects and its potential broad application," said professor James Shorter, coauthor of the study as cited by EurekAlert.
The first experiments on mice and zebrafish proved the effectiveness of the "molecule tweezer".
"The next step could be to assess safety and efficacy in non-human primates," said Professor Jan Münch from the University of Ulm.
READ MORE: First HIV self-testing kits go on sale in UK
The researchers believe that the way CLR01 operates makes it potentially effective against sexually transmitted diseases such as Hepatitis C and herpes viruses as well as other enveloped viruses.
It is not the first study dedicated to "molecule tweezers" – last year the Journal of Biological Chemistry published a study which proved the potential usefulness of tweezer-shaped molecules for targeting neurological disorders such as Parkinson's disease, Alzheimer's disease and Huntington's disease
You can share this story on social media: