2nd Bangkok bombing day: Explosive device thrown in Thai capital's river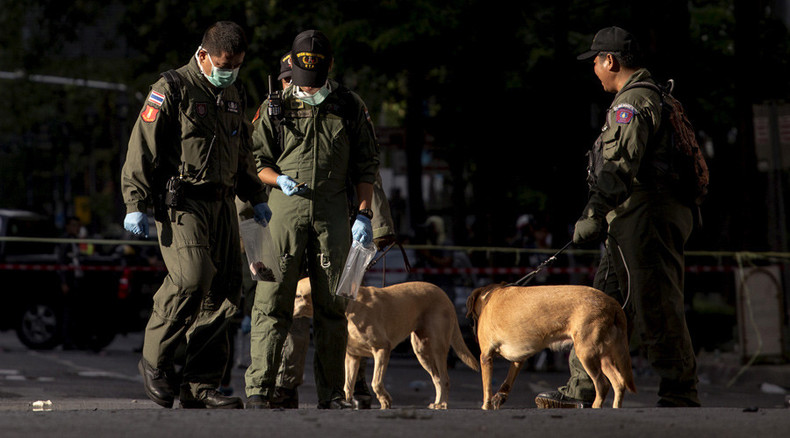 An explosive device has been thrown from Bangkok's Taksin Bridge into the Chao Phraya River. Police have not reported any injuries. Law enforcement has said reports of a separate blast near a railway station are erroneous.
The explosive, believed to be a pipe bomb, landed in the water near a pier where a number of ferry companies operate, taking tourists around the city's waterways.
Colonel Natakit Siriwongtawan, deputy police chief of the Klongsan district, said that an unidentified man threw the explosive near a busy pier on the city's Chao Phraya River, and that it landed in a canal.
"If it had not fallen in the water, then it certainly would have caused injuries," he said, as cited by Reuters.
Assistant National Police Chief Prawut Thawornsiri said the device was thrown from the bridge, but hit a pillar and bounced into the canal. Police Lieutenant General Prawut believes the perpetrator wanted to throw the bomb onto a busy pedestrian platform leading to the pier, but missed. CCTV footage taken at the time of the explosion showed people running down a causeway over the canal to escape the blast, according to the Bangkok Post.
Police arrived at the scene quickly and sealed off the area as they looked for and collected evidence. No casualties were reported.
There were reports of a second blast just hours later, with an explosive device said to have been thrown from a bridge near a railway station in the capital, AFP reported, citing police sources. An officer at Yanawa police station said the alleged incident took place near the Saphan Taksin BTS skytrain station.
However, Thai police later retracted information about the second 'blast' near the station, saying it never happened.
"A mistake took place. We were talking about the same incident at the Sathorn Pier. There is a metro station near-by, but there was only one blast," an official police representative told journalists, as cited by TASS.
This latest terror attack comes just hours after a bomb exploded near a shrine in the commercial and tourist center of the Thai capital, which killed at least 22 people, of whom nine were foreigners. Over 120 were reported to have been injured, according to local media reports following Monday evening's blast.
It is not known at present if the blasts are linked.
You can share this story on social media: