Athletes v Army: Surprise tank challenges cyclists in Norway's Arctic Race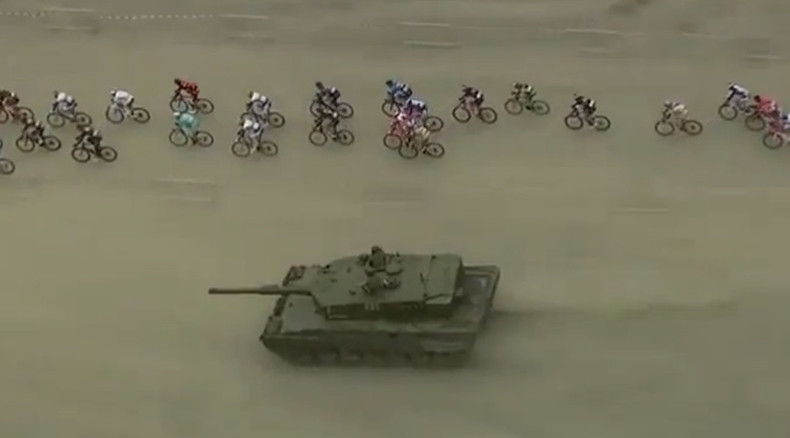 A 700-kilometer bike race can get monotonous, even for the cyclists involved. But the Norwegian Army knew just how to spice up the third annual Arctic Race last week, deploying a surprise tank to race alongside the bikers.
After learning that the race would pass through the Setermoen army camp, Norway's Armored Battalion decided to have a little fun – deploying a Leopard 2A4 tank to serve as a reception committee and unofficial racer.
"The cyclists knew that they were going to bike through an army garrison and they knew that they would have some sort of support, so to speak," Lieutenant Colonel Aleksander Jankov, from the Norwegian army, told The Local.
Although the idea of a tank racing alongside cyclists armed with only bike helmets may seem a tad dangerous, Jankov said there was never any cause for alarm.
"There were physical barriers between the peloton and the main battle tank, so there was no safety hazard whatsoever," he said.
Today I got drag raced by an army tank during a bike race. He won. I love you Norway!!! #epic

— Stephen Clancy (@Clancy_Stephen) August 14, 2015
The cyclists were also greeted with more tanks along the route, along with other military and medical equipment. Hundreds of soldiers were lined up to give their support to the cyclists.
"[The soldiers] were absolutely ecstatic. They had lot of fun the whole day, receiving the professional cyclists from all over the world and welcoming them into their garrison. We had soldiers down the whole route," Jankov said.
Taking place over the course of four days, the Arctic Race covers 700 kilometers and consists of four stages. The third annual competition took place from August 13-16, with Estonia's Rein Taaramäe taking overall first place.