Iran to send flotilla of warships to Russia, newest destroyer among them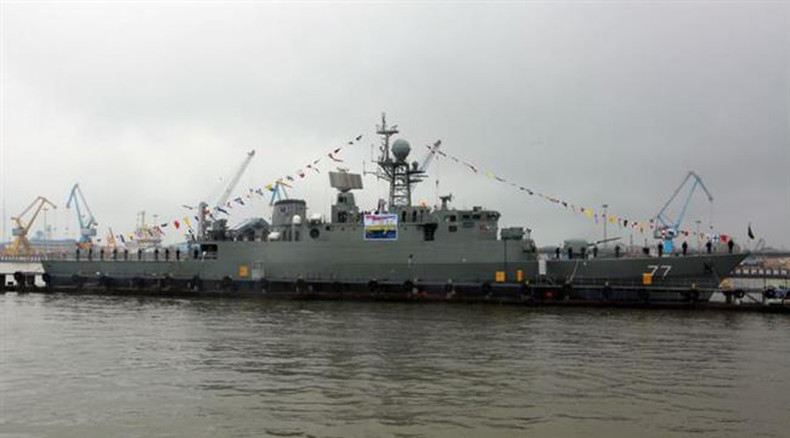 Iranian Navy commanders have announced plans to send a fleet of warships, including Tehran's latest pride - the Iranian-made destroyer Damavand that boasts base-controlled radars, an advanced propulsion and command-and-control systems - to Russian territorial waters.
"Destroyer Damavand will be sent to Russia in the form of a flotilla of warships," Commander of Iran's Northern Navy Fleet Admiral Afshin Rezayee Haddad told FNA on Saturday.

Earlier this month the Russian Navy fleet berthed in Iran's Anzali port and staged joint naval drills together with Iranian warships. Iran's Damavand, which officially joined the country's fleet of warships in the Caspian Sea in March, reportedly took part in the joint naval wargames with Russia earlier this week. Iranian fleet of warships has in turn been invited to Russia's southern Astrakhan port for joint training.
Damavand has the ability to carry helicopters, anti-ship missiles, surface-to-air missiles, torpedoes and air defence guns, just to name a few. Its control system allows the warship to track as many as 100 surface, sub-surface, and air targets simultaneously, choosing the best way to attack them. The second-generation destroyer uses a new modern flat-type, phased array radar, and can be used in combat and during training and naval operations.
READ MORE: Iran discloses info about past nuclear activities to IAEA
Iran has attained self-sufficiency in producing essential military equipment and systems, according to FNA. Tehran officials have repeatedly stressed that the country's military and arms programs are only meant to serve defensive purposes, however, and should not be considered a threat to any other country.
You can share this story on social media: