Assange can't leave embassy as UK wants to arrest him, no matter what – attorney to RT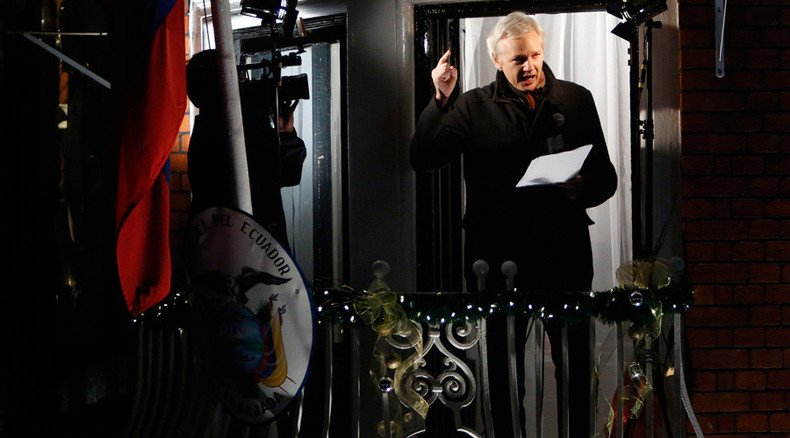 With Swedish prosecutors dropping some of the sex crime allegations against Julian Assange and one more allegation expiring August 18, the WikiLeaks founder still cannot leave the embassy because he will be arrested "no matter what… because of the US," Assange's attorney tells RT.
Prosecutors have withdrawn two out of the four sex crime allegations against Assange as they had run out of time to charge him, according to Swedish law.
Another allegation against him will also expire within the next five days. The last one will remain in force for another five years.
Under these circumstances Sweden said it would speed up the investigation into the last remaining allegation of rape made against Assange in 2010.
READ MORE:'Campaigners are key to getting secret TPP and TTIP trade deals published'

Following the announcements from Sweden, Britain said it would officially declare a protest to the Ecuadorian government over its decision to grant asylum to the WikiLeaks founder, thus preventing his extradition to Sweden.
"Ecuador must recognize that its decision to harbor Mr Assange more than three years ago has prevented the proper course of justice," British Foreign Office minister Hugo Swire said in a statement.
RT discussed the developments with the whistleblower's attorney Carey Shenkman.
RT:How much of a relief for your client is this expiration of some of the allegations against him?
Carey Shenkman: Results of today are ambiguous because after five years of doing nothing in Assange's case, the Swedish prosecutors decided today to drop most allegations against him. But it has been almost five years since Julian Assange has been detained without charge, which is absolutely unacceptable for his health, his family and his reputation.
READ MORE:Double standards? Sweden interviews 44 in London, but not Assange

RT: The allegation of rape will not expire until 2020 – does Assange believe he'll have to stay in the embassy until then?
CS: Assange will not be able to leave the embassy in no matter what Sweden does because the UK actually said it would arrest Assange no matter what and it made no promises it would not extradite Assange to the US.
And after all these years that Assange has been detained you have to ask yourself what this case is actually about – it is about the United States.
For all this time the US has been building a national security case against WikiLeaks. The Federal Court in the US confirmed in March that the case against Assange and WikiLeaks had been ongoing.
In fact, over 50 free speech organizations around the world have condemned the US Justice Department because of the effects this precedent could have on the freedom of speech and the news gathering process.
Just yesterday, an alleged WikiLeaks source was threatened with indefinite solitary confinement, which is actually widely recognized by the UN and the international community as torture. So Assange has every right to fear similar or even worse treatment if he ever risks extradition to the US.
RT:Is it possible the allegations which have expired today can be renewed?
CS: There would be no precedent in Swedish law for that and our view is that this case simply needs to be dropped. For years now, the UK, Ecuador, the Swedish courts, our legal team and Assange have been asking the Swedish prosecutor to come to London.
In fact, nearly nine months ago a Swedish court said that the prosecutor was not doing her duty with the investigation. That was when there were four allegations, while today there is just one and he is still stuck in the embassy. This is unacceptable. And the prosecutor has failed to move the case forward. So the case really needs to be dropped, it is about time.
***
The Australian computer expert, 44, has been seeking shelter in the Ecuadoran Embassy in London since 2012, when the country gave him asylum. Britain has refused to allow Assange to leave for Ecuador and said it would arrest him over the Swedish allegations. The UK has made no promises not to extradite him to the US.
You can share this story on social media: