'Nuclear war in my neighborhood': Gigantic plume of black smoke causes panic in Moscow (VIDEO)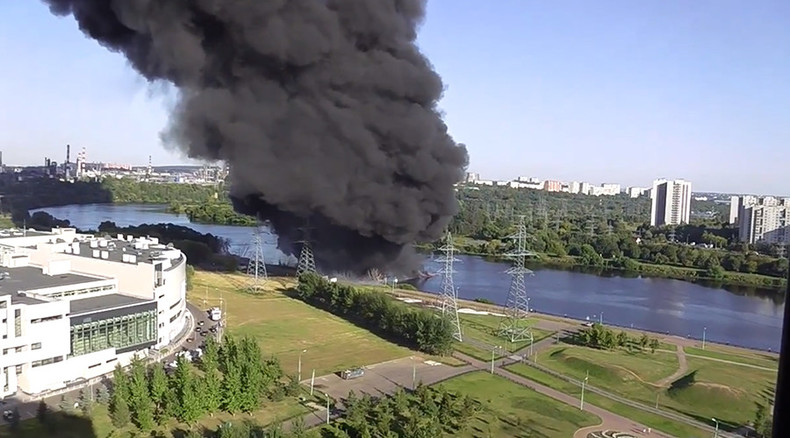 Muscovites were terrified, and some even suggested a nuclear war had begun, after a gigantic plume of thick black smoke rose hundreds of meters above the Russian capital's skyline on Wednesday.
Muscovites posted numerous photos and videos on social networks showing a huge column of smoke, some with panicked comments, on Wednesday afternoon.
"There's a nuclear war underway in my neighborhood. Or something is burning. Or some other bad thing happened," one of the Instagram users wrote.
The blaze was so massive that it was clearly visible from Red Square in the very heart of the capital.
It appeared that a heating oil spill in the Moskva River was burning in the southern part of the city on the border of the Maryino and Brateevo districts.
The blazing water ran for about 100 meters along the riverbank with a thickness of about 1 meter, according to Moscow deputy mayor Petr Biryukov. Plumes of smoke rose some 200 meters into the air, Interfax news agency reported.
It only took the fire brigades about 15 minutes to deal with the flames, both in the water and on land.
Thirty people and 10 special-purpose vehicles were dispatched to the site to tackle the blaze, which was extinguished at around 5:50 pm local time (1450 GMT), the Emergencies Ministry said.
Three people from one family – a mother, father and 9-year-old child – were hurt in the blaze. They were treated onsite by medics and taken to a local hospital, Petr Biryukov, Moscow's deputy mayor, said.
Russia's RosPrirodNadzor environmental watchdog sent experts to the south of Moscow to investigate the blaze. They concluded that the fire had occurred due to "a rupture of the pipeline under water."
"The grass combusted and because of it the oil in the river started burning," a source from Moscow police told Tass.
However, Transneft, which runs its pipelines through the area, said its pipes it had had nothing to do with the heating oil blaze.
"The incident occurred at the site of passage of the pipe. But a two-hour-long check has shown that the main pipeline is operating normally," Igor Demin, a Transneft spokesman, said.
"But we still stopped pumping through the pipe because an emergency regime is in place, despite the pipeline not being damaged," he added.
The Emergencies Ministry said that an analysis of air samples taken in the area in the fire's aftermath showed that permissible exposure limits to pollutants hadn't been exceeded, and the byproducts from the combustion pose no threat to the population.
You can share this story on social media: