Australian mining company probed for massive land contamination – leaked report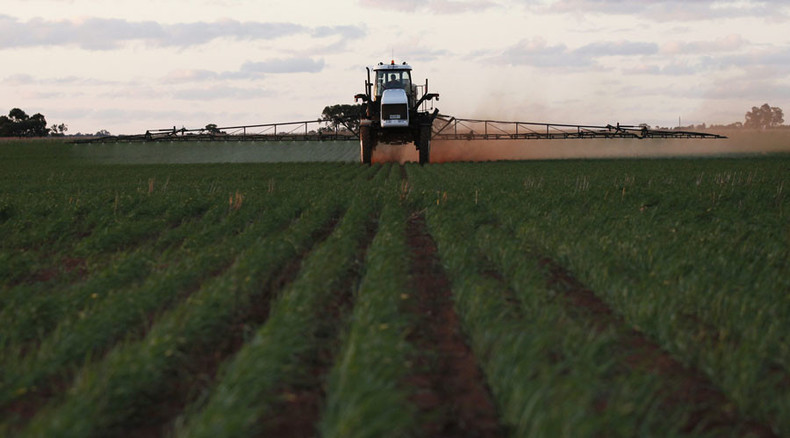 A mix of toxic chemicals and explosive gases may have poisoned hundreds of square kilometers of agricultural land near the town of Chinchilla in Queensland, Australia, says a leaked report by a government agency investigating Linc Energy mining company.
According to the secret document by Queensland's environment department obtained by ABC News, Linc Energy's mining operations have already caused "irreversible" damage to crop lands.

Underground coal gasification (UCG) activities at the plant have resulted in permanent acidification of the area, the paper states. Specialists measured critical concentrations of hydrogen in the soil reaching the explosive level. They also found anomalous levels of methane and cancer-causing benzene in the soil.

"We have found gases in quantities above the explosive limit. In our reconnaissance boreholes, explosive levels have been found that indicate very much higher concentrations in the soil atmosphere," according to the report.
It also states that soil pollution within a 320 square kilometer area around the plant could be dangerous to people's health,

Four of the department's investigators were taken to hospital with suspected gas poisoning after soil testing in March, ABC News reported citing other released documents.

"While completing the works, I heard gas detector alarms sounding and was advised by Dr Gargiulo that high levels of toxic gas were detected in the area where we were augering, which was dangerous to our personal health and safety," said Paul Bergin, senior investigator.

"We then stopped work and vacated the site, due to concerns for our health and safety, and attended the Chinchilla hospital. My nausea lasted for several hours. I was also informed by the treating doctor that my blood tests showed elevated carbon monoxide levels," he added.

The authors of the report surmised that the pressure for coal seam fracturing during UCG had been too high, damaged surrounding rocks and consequently leading to the escape of toxic gases.

"Not only was the pressure high enough to fracture the coal seam, it was also high enough to fracture the overburden. Once this fracturing had occurred, it was unsafe to ignite the coal seam," the study says.

READ MORE: Fracking's unexpected side-effect: Traffic deaths on the rise

Besides the harm inflicted on the environment, the report accuses Linc Energy of "gross interference to the health and wellbeing of former workers."

"When I was at work I would often get headaches. The headaches would be worst during night-shift especially in the mornings," said one of the former workers.

"When you were working at night, when there was no breeze, your personal gas detector would be constantly alarming to the extent that I'd get in my vehicle and drive off site for a few kilometers before it would stop alarming. I just had to breathe fresh air," told another one.

In a statement for the media, Linc Energy refuted all report's accusations, claiming that the investigation had been a "monumental mishandling of Queensland's strained financial resources." The company claims that the detected gases were being released as a part of naturally occurring processes.
It also said that work conditions at the plant had been satisfactory.

"Allegations that Linc Energy intentionally exposed or covered up and ignored health concerns of its employees are incorrect, misleading and offensive. Since 2008, Linc Energy has not received any complaints from employees, past or present, regarding health effects relating from exposure to syngas or its contaminates at our UCG Demonstration Facility," said Linc Energy.
In 2013, Linc Energy began to shut down its plant, which finally ceased its underground coal gasification operations after 14 years.

"Linc Energy does not see a commercial opportunity to employ its UCG technology in Queensland at this time," the company was cited by the Brisbane Times as saying.

The company has already been asked to provide $22 million in financial guarantees to cover the cleanup of possible environmental damage at the Chinchilla site. The department reportedly said water and sediment in some of the facility's storage dams were "likely" contaminated with dioxins. Linc has refused to provide the guarantee, taking the issue to the Land Court.

The plant near Chinchilla was Linc Energy's first facility conducting underground coal gasification. The technique is used to extract coal which is too deep to be mined. The coal is burned underground, producing gas which is siphoned off through wells.