Al-Qaeda's Syria branch withdraws from frontline against ISIS
Published time: 10 Aug, 2015 13:31
Edited time: 10 Aug, 2015 15:06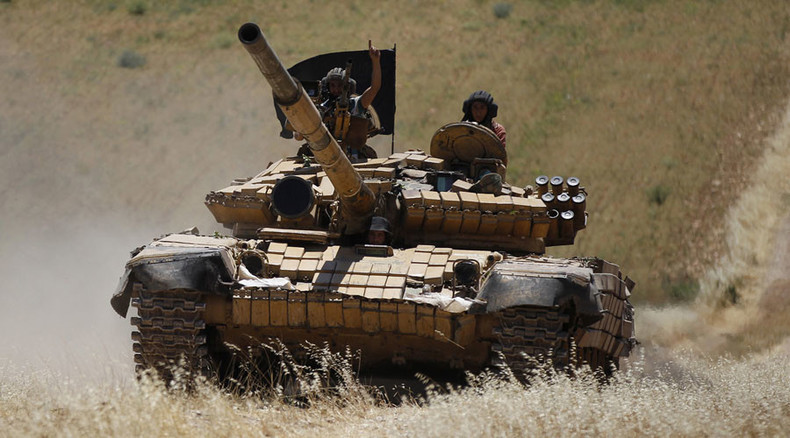 Al-Nusra Front has withdrawn from frontline positions against Islamic State on the Turkish border, citing disapproval of a Turkish-US plan which only serves "Turkey's national security" rather than the fight against Syrian President Bashar Assad.
A statement by the Al-Qaeda-linked group, dated Sunday, expressed discontent at a US-Turkey plan to drive Islamic State (IS, formerly ISIS/ISIL) from the Syria-Turkey border, claiming the plan is only aimed at serving Ankara's priorities.
Al-Nusra Front said that "facing this current scene," its only option was to withdraw and leave the frontline positions with IS in the northern Aleppo countryside "for any fighting faction in these areas to take over," as quoted by Reuters.
The group did, however, say that it would maintain frontline positions against IS in other areas, including the Hama province and Qalamoun mountain range, located near the Lebanese border.
It is understood that the statement is in response to an announcement by the US and Turkey last month, during which the two countries stated their intention to drive IS fighters from a strip of land in northern Syria, providing air cover for Syrian rebels in the area. Turkey also agreed to let the US use Incirlik Air Base to launch airstrikes against IS.
Relations between Washington and Al-Nusra Front recently took a sharp turn, with the group attacking US-trained rebels in Syria just over one week ago, capturing two leaders and at least six fighters. The American-led anti-IS coalition responded with airstrikes in an effort to help the US-trained group, known as Division 30.
The assaults took Washington by surprise, with US officials stating that although they anticipated potential attacks from IS or Syrian Army forces, they had expected Al-Nusra Front to welcome the group as an ally in the fight against a common enemy in IS.
However, Al-Nusra Front said in a July statement that it wants to eliminate US-trained fighters, the New York Times reported.
After the offensives by Al-Nusra Front, President Obama authorized the Air Force to protect US-trained Syrian rebels by bombing any forces trying to attack them. Following that approval, the US confirmed on Sunday that Washington is deploying six F-16 Fighting Falcon jets to Turkey, to aid NATO in its fight against the militant group.
Al-Nusra Front has been fighting IS since last year. Although Islamic State initially proposed a jihadist merger, Al-Nusra Front rejected the proposal.
Syria remains a bloody battlefield of numerous warring factions, with numerous warring parties fighting against Assad, IS, and oftentimes each other. Nearly a quarter of a million people have so far died in the civil war since it began in March 2011, according to the Syrian Observatory for Human Rights.
LISTEN MORE: