'Abject failure': Pentagon-trained Syrian force under fire after first battle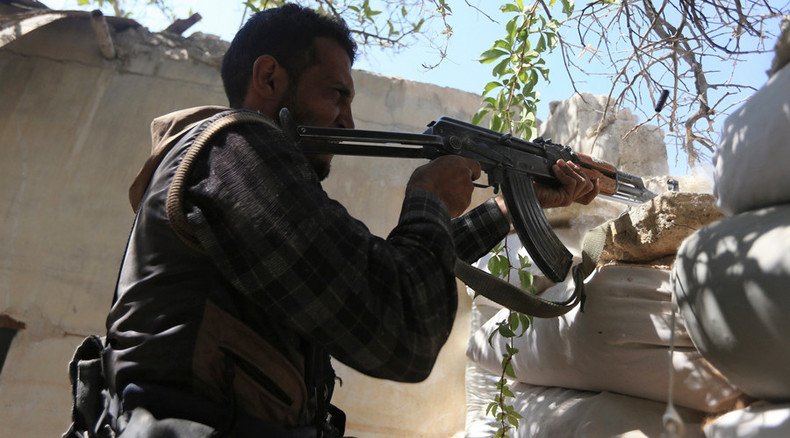 After US-trained Syrian fighters were apparently killed, captured or went missing in their very first battle with an Al Qaeda's affiliate in Syria, questions have been raised as to whether the Pentagon's costly engagement with the Syrian opposition, allegedly to fight ISIS, was worth it.
The first batch of 'Division 30' trainees, are also known as the New Syrian Force (NSF). NSF consists of some 54 fighters, and has reportedly ceased to exist as a battle unit, with at least half of its personnel killed, captured or missing, CBS reported.

The devastation was caused by Al Nusra Front, an Islamic group loyal to Al Qaeda, while the NSF was created with a different task in mind, to counter Islamic State (IS, formerly ISIS/ISIL) fighters, who have not yet been caught in the NSF line of fire.

The first firefight reportedly ended with the NSF calling for the US air support, which they received, as the American warplanes hammered some 30 Al Nusra militants to dust.

But the extremists returned shortly afterwards to take revenge on coreligionists, killing some of the NSF trainees and capturing several American-trained Syrian rebels, their commander included. The remaining people fled the area, some reportedly to Turkey, where they were trained. Others left for territory secured by the Kurdish militia, Peshmerga.


"Between Monday and Tuesday, Al-Nusra Front seized at least five rebels from Division 30 in the village of Qah, near the Turkish border," AFP cited Rami Abdel Rahman, chief of the Syrian Observatory for Human Rights, as saying. Last week the jihadists also captured at least eight rebels from the same US-backed unit, the Observatory reported.

To capture the NSF trainees on Monday, Al-Nusra stormed a camp for internally displaced people, where rebel fighters had taken refuge. "Five fighters were seen captured but there may be more," the Observatory stressed, adding that according to informers on the ground, Al-Nusra is "hunting down" US-backed rebels in at least two Syrian territories: Idlib province and neighboring Aleppo province.

The Pentagon has already spent $42 million setting up the Syrian rebels training program. In total, Washington is ready to spend a total of $500 million training and equipping 12,000 Syrian fighters, CBS reports, citing an unnamed US military official, who called the Pentagon's first attempt to inject trained fighters into the Syrian conflict as an "abject failure."

The first experience of using Syrian rebels against hardened Islamic extremists suggests that using American-trained fighters in small groups is of no use, even with the help of the US Air Force ready to provide support. The NSF units are not only unable to attain their objectives, but rather are not motivated enough to stand the fight.
"Certainly this past week has highlighted some of the challenges associated with fielding New Syrian forces, but it's important to keep in mind that success does not hinge on one fight or one event and we're still in the early phases of implementing this program," Associated Press cited Col. Pat Ryder, Central Command spokesman. "And that we're continually applying lessons learned and working as a coalition," Ryder said, aiming to improve the training program.

Ryder did not go into detail about the whether any of the missing NSF fighters returned to the battlefield, only saying that they are not under US command and control.

"The situation on the ground in Syria is incredibly complex, the situation in terms of the various malign elements within Syria makes reinsertion or exfiltration very challenging," said Ryder, as cited by the AP. "As we observe the situation, as we instruct new recruits, there are certainly things we're taking into account."

Fergus Hodgson, the Capitol Bureau Reporter with the Pelican Institute for Public Policy, also told RT that the US getting involved into proxy wars is a "very short-sighted and unfortunate plan."

"They don't know what they are choosing, they are picking winners and losers, and it's foolish because there's no access strategy, there's no long-term plan," Hodgson said, adding that it is "crazy" to pick "small time militia groups" to overthrow a government or to push back the Islamic State.

The US "middle ground" policy in Syria is achieving nothing, because the US would not join the confrontation in the region more aggressively, so "we're just playing silly games at this point," Hodgson concluded.
You can share this story on social media: