At least 8 killed, 400 injured after massive explosion rocks central Kabul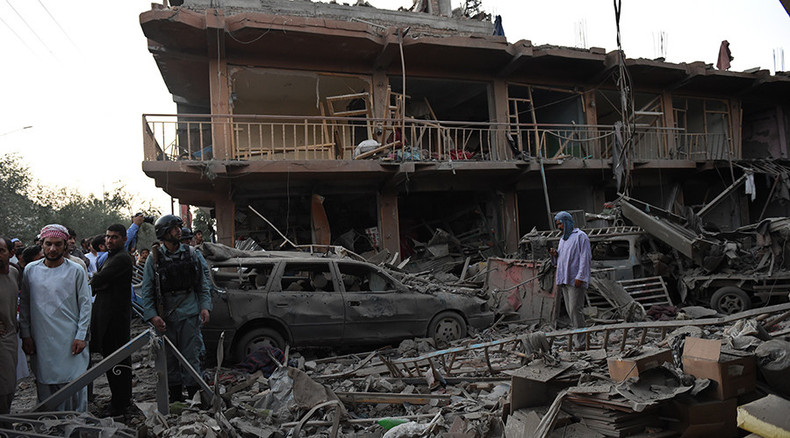 At least 8 people have been killed and some 400 wounded after a truck bomb exploded next to an Afghan army compound, with the shockwaves shaking Kabul's city center shortly after midnight. Most of the victims are civilians, including many women and children.
"A truck bomb [was] detonated close to an army compound," Kabul police chief Abdul Rahman Rahimi said. Rahimi earlier told reporters, after a visit to the hospital, that the death toll stands at 10, the Guardian reports.
Health Ministry spokesman Wahidullha Mayar however said that 8 people were killed and about 400 people were injured in the blast, mostly after being hit by flying glass.
No one has yet claimed responsibility for the gigantic explosion that shattered windows across the center of the Afghan capital.
The blast happened near an Afghan army base in the city's District 8, police sources told Al Jazeera. At the same time, Reuters sources stated that the explosion could have been intended to target a compound used by Afghan intelligence officials.
Following the explosion the affected area was immediately cordoned off by the police, with ambulances rushing the injured to a nearby hospital. Those injured so far have included 15 children and 20 women, Dr. Fida Mohammad in the emergency unit of Ibnisina Hospital told AP, adding that most of the injuries were caused by flying shards of glass.
Meanwhile the Health Ministry warned that the toll is expected to rise.
"The wounded [which] included children are trickling into city hospitals... the casualty toll is expected to rise," Mayar said.
According to the United Nations Assistance Mission in Afghanistan (UNAMA) at least 1,592 civilians have been killed and 3,329 injured in the country in the first half of 2015.
READ MORE: No end to bloodshed: Civilian death toll in Afghanistan hits new high in 2015
Overall the war-torn country has known no peace since the US-led invasion in 2001. UNAMA says that the "rise in civilian harm" in the first half of 2015 was due to "increased civilian casualties from suicide and complex attacks and targeted killings."