'Muammar! Muammar!' Pro-Gaddafi demonstration in Benghazi dispersed with rocks, gunfire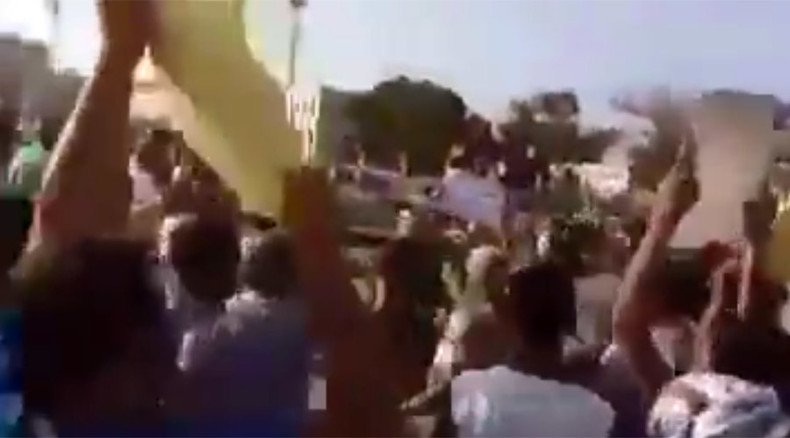 Militias hurled rocks and opened fire against several dozen supporters of the toppled former Libyan leader Muammar Gaddafi, who took to the streets of Benghazi to demand the release of his sons and protest the chaos and power vacuum in the country.
"Only God, Muammar and Libya!" chanted members of a small group, holding old Libyan flags in remembrance of the longtime autocrat, who was toppled and murdered, following a Western-backed uprising and NATO led military intervention in 2011.
The rare public protest attracted the ire of residents and paramilitaries of the country's second-biggest city, which has been the flashpoint of fighting between Islamists and the embattled government since last year. As the onlookers began to attack the picket, the demonstrators scattered, with no confirmed reports of injuries.
As Libya struggles to restore some peace, stability and centralized power four years after Gaddafi's death, the fate of several of his children hangs in the balance.
READ MORE: Gaddafi's son, 8 other former government officials sentenced to death by 'Libyan militia'
The crowd chanted for the release of Gaddafi's handpicked successor Saif al-Islam, who has been held by a militia in the mountainous region of Zintan since 2011. A court in Tripoli, which is held by the Islamist Libya Dawn militia, sentenced Saif al-Islam to death last week in absentia on charges of mercenary recruitment, attacks on civilians, as well as incitement to murder and rape. Libya Dawn does not have the reach to carry out the verdict.
READ MORE: Saadi Gaddafi torture video shows name guarantees 'maximum mistreatment' & no justice – lawyer to RT
However, Libya Dawn does hold Saadi Gaddafi, a younger son, and former professional footballer. A video emerged this month of a man thought to be Saadi being tortured, with his feet being beaten by a metal pipe.
READ MORE: 'Gaddafi officials sentenced to death interrogated without lawyers present' – Amnesty
Human rights organizations have condemned the treatment of both brothers and objected to violations of their due process rights.
You can share this story on social media: