Kuwaiti crew drifts, rolls-over T-72 at Russia's Tank Biathlon (VIDEO)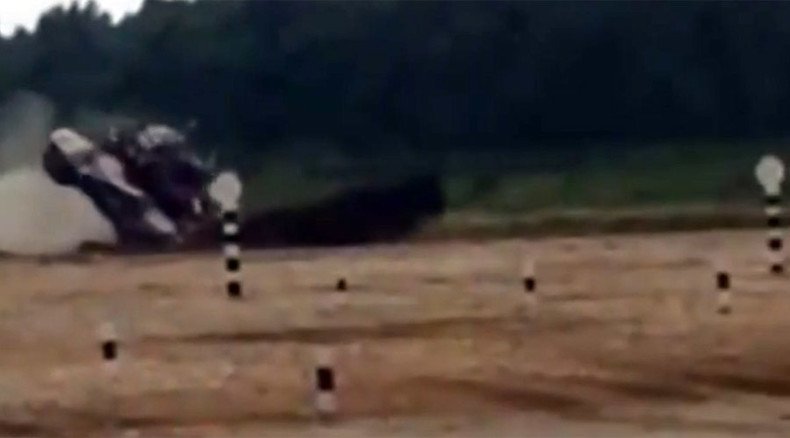 During a practice run ahead of Tank Biathlon 2015, taking place in Russia for the third time, a Kuwaiti crew piloting a T-72 could not handle the momentum and sent their steel giant into an uncontrollable drift ending in a spectacular flip, which was caught on video.
While preparing for a breathtaking spectacle at the international competition in Russia, the Kuwaiti soldiers hit the acceleration on their 41-ton armored giant a little too hard before a sharp turn. Trying to drift the machine sideways, to the surprise of onlookers, they sent the tank flying in the air, rolling the machine onto its side before resting motionless.
The crew of the tank survived alive and well, only suffering some bruising according to defense, armed forces and military hardware blogger Alexey Khlopotov. The tank itself, despite forming the basis of a picture-perfect accident, reportedly suffered almost no damage.
The accident reportedly occurred on July 28, just a few days before the two week international military skill competition kicked-off on August 1.
READ MORE: Clash of titans: Tank biathlon starts 2015 International Military Games nr Moscow
The International Tank Biathlon Championship at the Alabino firing range near Moscow showcases crews from 17 countries competing in terms of both precision and speed. All the crews are competing in T-72B3 models, while the Chinese team brought their own tank, the Type 96A.
The vast territory and rugged terrain specially build for the competition allows for the recreation of full-scale combat operations. Overall the tank course includes 15 obstacles.
After two days of the competition Russia has been leading the list in individual tank races, followed by Serbia and a crew from Tajikistan.
Organized by the Russian Defense Ministry, the tank biathlon is just one part of a wider military games competition. The International Military Games will see 14 contests, including AviaDarts, the Caspian Cup and the Suvorov Onslaught, where the military will test its skills on land and in air. The contests will be held in 11 different locations across Russia. More than 2,000 foreign troops are taking part in the games, with 400 foreign observers attending the events.
You can share this story on social media: