Porn ban in Kamasutra land? Hundreds of adult websites 'ordered blocked' in India
Published time: 3 Aug, 2015 03:43
Edited time: 3 Aug, 2015 03:56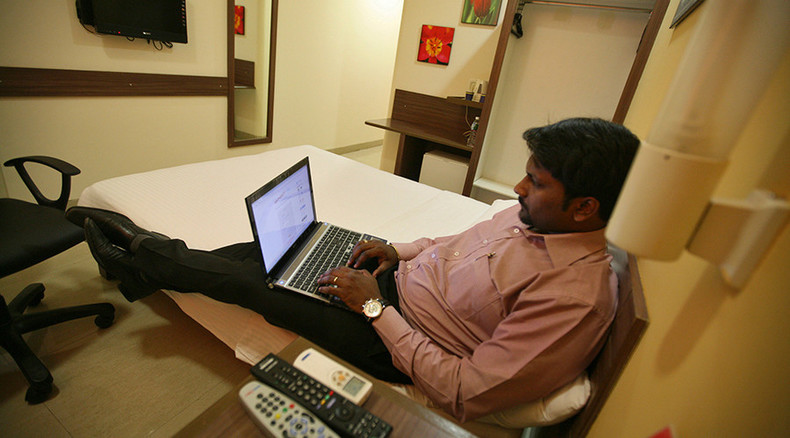 Puzzled customers of India's leading internet providers have been left with no access to porn sites after a government agency reportedly ordered the ban of 857 pages containing explicit material. Social media is abuzz with dismay and speculation.
With no known official warning prior to Sunday's sudden string of 404s, online users took to Twitter, Facebook, and Reddit in an attempt to solve the mystery of the vanishing porn.
Reports arose that a blockade was indeed taking place and allegedly had to do with a Department of Telecommunications (DOT) order dated Friday issued under section 69A of the IT Act 2000. The majority of India's leading internet service providers (ISPs) – including Vodafone, MTNL, ACT, Hathway, and BSNL – appear to have been affected.
"It's a list of 857 URLs. Most of the sites are pornographic. I would say 100% of the sites," a senior ISP manager told Legally India. "All the ISPs have to implement [the block] because we are working as per the restrictions of our licensor. We will work and we have to block, that is all … You must have started seeing the effects of this blocking," the manager added, implying that the smaller Indian ISPs would soon have to follow suit.
While the actual blocking order has not been shared with the media as of yet, the ban has also been confirmed by the Hindustan Times, quoting DOT sources.
"Certain websites have been reviewed and found to be spreading anti-social activities as hyperlinks from these websites, some of them were pornographic, so we have sent letters to internet service providers to block them. The action has been taken in reference to section 79 of IT Act," the sources said.
The newspaper also cited Information Technology Secretary Ram Sewak Sharma, who said that DOT had "followed court directives," referring to an ongoing case in the Supreme Court targeting adult websites.
While some claimed the Supreme Court would not have issued such an order because of civil liberties conflicts, the measures have been effectively enforced, as adult content lovers ended up with blank pages when trying to access websites like Pornhub or Redtube.
On Reddit, a screenshot of such page was posted with the following message: "Blocked as per the directions received from Department of Telecommunications, Government of India."
The Hindustan Times confirmed with Vodafone users that well-known porn sites were not loading all across India.
"When I checked last night it was opening fine, but this morning it seems all the popular porn sites are blocked," said the a Vodafone customer from Kolkata, adding that nothing was available through the Alliance Broadband service either.
No reasons have officially been given as to the reason for the block, except for Rule 12 of the Information Technology (Procedure and Safeguards for Blocking for Access of Information by Public) Rules from 2009.
Under Rule 12, the government can pursue action against ISPs that fail to comply with blocking directions under the IT Act. Punishments can range all the way up to seven years in prison.
One of the lawyers arguing against the IT Act, Karuna Nundy, told Legally India that any blocking order under section 69A must provide reasons as to why the content needs to be blocked, which can later be appealed at a high court.
But those following India's civil rights battles may have seen a ban of this sort coming, as pornography has been tied to certain social problems – namely rape – in political discourse.
Commenting on the Kamlesh Vaswani petition, which had recently asked the Supreme Court for a web filter to censor "obscene content," lawyer Apar Gupta, who runs India Law and Technology Blog, wrote on his Facebook page that it was "premised on a presumption that the consumption of pornography incites and causes sexual violence to women." At the time, Gupta rejected the reasoning, decrying the "dangerous" lack of opposition to the case, which he said could not only undermine freedoms, but also aggravate the rape problem.
Notably, a Supreme Court response to the petition in July stated the following: "It is an issue for the government to deal with. Can we pass an interim order directing blocking of all adult websites? And let us keep in mind the possible contention of a person who could ask what crime have I committed by browsing adult websites in private within the four walls of my house. Could he not argue about his right to freedom to do something within the four walls of his house without violating any law?"
While the idea of a pornography ban has had its supporters in India, the online community has largely criticized the developments, questioning the purpose and the benefit to society as a whole.
The ambiguity of the top judicial body's response has sparked speculation over the role the government had to play in pushing the ban through. Reddit user BassistEddie wrote: "First, we have to know if it's really government who has banned them, because Supreme Court has refused to ban them, saying that it will be a violation of Article 21, the right to personal liberty."