8 ISIS supporters killed in N. Caucasus special op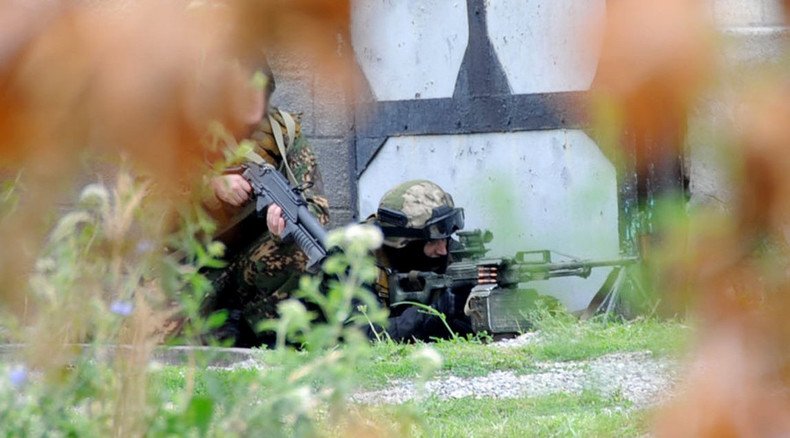 Russian security forces have foiled a terrorist group that recently pledged allegiance to ISIS in Ingushetia, in the Northern Caucasus, according to the National Anti-Terror Committee (NAC). Security forces seized explosives, weapons and over 2,000 rounds of ammunition.
Russia's law enforcement agencies killed eight militants, including one of the organizers of the attack on government buildings in Grozny, Chechnya, in December 2014, NAC told TASS news agency on Sunday.
The security operation took place at in a forest in the Sunzha district of the Republic of Ingushetia, southwest Russia.
"According to information available to the security services, the militants killed in the operation had recently pledged allegiance and became members of the Islamic State [formerly known as ISIS/ISIL] international terrorist organization. All of them were complicit in a number of crimes of a terrorist nature, including the killings of law enforcement officers and the extortion of money from entrepreneurs," NAC said.
At the site of the security operation, law enforcement representatives found a large amount of automatic weapons, hand grenades and improvised explosive devices (IED) as well as over 2,000 units of ammunition, Regnum news agency reported.
READ MORE: ISIS issues propaganda magazine in Russian
In June, the leader of a militant gang who swore allegiance to ISIS was killed by Russian security forces in the neighboring Republic of Dagestan.
The southern Russian republics of Ingushetia, Chechnya and Dagestan have suffered from the continuous threat of terrorism against the civilian population. Shootouts between Russian law enforcement officers and militant groups are common in the region.
In September, ISIS militants in Syria made a video threatening to bring the Republic of Chechnya into their self-proclaimed caliphate. In May, the terrorist group issued the first edition of a propaganda magazine in the Russian language.
The head of the Chechen Republic, Ramzan Kadyrov, has dismissed ISIS threats. In an interview to Interfax in June he said that the group had no hope in Chechnya because the republic was controlled everywhere by law enforcers and "99.9 percent of the Chechen people" supported peace.

READ MORE: Chechen leader claims Islamic State has no chances in the republic
Islamic State is a Sunni jihadist group that formed during the sectarian conflict in Iraq following the toppling of Saddam Hussein by the US and allies in 2003. It has seized vast territories in northern Syria and Iraq, as well as parts of North Africa.
You can share this story on social media: