Russian military controls 500km of offshore Arctic - Defense Ministry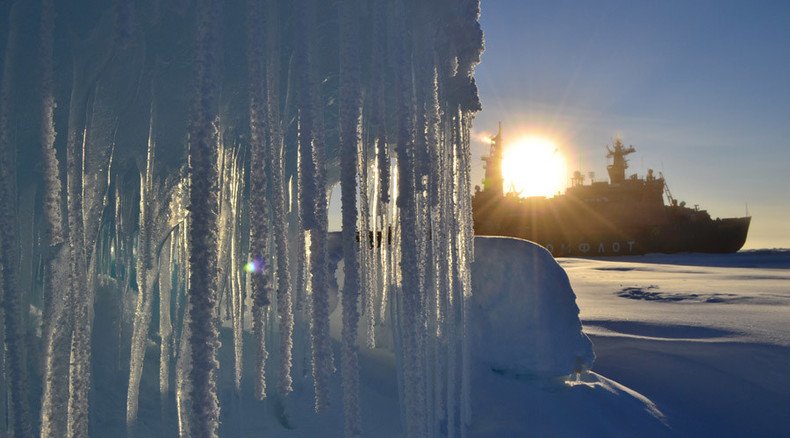 Russia's military surveillance in the Arctic maintains control over airspace and ocean 500km from the shore, Defense Ministry claims. Soviet-era military bases along the opening Northern Route are being de-mothballed and renovated.
Russia's Defense Ministry is actively implementing the program to revive its military presence in the Arctic following mass closure of military installations there in 1990s.
READ MORE: Russia's new maritime doctrine 'to counter NATO's expansion', focuses on Crimea & Arctic
Military engineers are assembling module-based military bases designed to withstand the harsh conditions of the region and enabling personnel to effectively maintain equipment all year around, during the polar night and extreme low temperatures.
The return of the Russian military to the region is already bearing fruit.
"Our situation monitoring system maintains control over 500km from the shore," Defense Ministry's spokesman told RIA Novosti stressing that Arctic remains a key region for establishing national security in the northern direction.
Military installations are planned to be reconstructed on all major archipelagos and territories of the Arctic Ocean belonging to Russia, such as Novaya Zemlya, Frantz Josef Land, the Schmidt Peninsula, New Siberian Islands and others.
READ MORE: Russian bases to span entire Arctic border by end of 2014
This program includes repair of an airfield abandoned some two decades ago and deployment to the area of the brand new air-defense systems, radars, control stations etc.
READ MORE: Russian radar locators, fighter jets to be deployed in the Arctic – Defense Ministry
Russia's RTI Corporation is developing an integrated monitoring system consisting of satellites, automatic land and sea-based sensors and automated process-control system that will enable to assess the situation in the region in real time. The system is planned to be finalized by 2023.
READ MORE: North Pole-2015: Russia launches drifting Arctic station
Most of the Northern Sea Route, the shortest seaway from Europe to Far East and Asia, is passing through the Russian Arctic and with growing sea traffic in the region Moscow intends to maintain both maritime security and ensure full military control over the region.
READ MORE: Russia to deploy military drones to monitor Arctic
Back in 2010, President Vladimir Putin stressed that development of the Arctic region is greatly important for Russia's future.
"Within 50 years' time Arctic might become one of the major sources of energy resources and key transport hub of the planet," Putin said.
READ MORE: Russian PM orders plan to increase Northern Sea Route capacity by 20 times
You can share this story on social media: