Aussie nurse charged with supporting ISIS in Syria on return home, faces 25-year jail time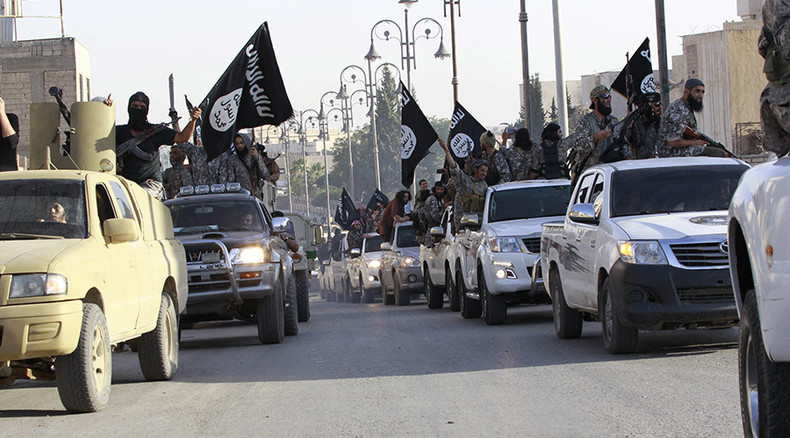 An Australian nurse has been charged with supporting Islamic State (IS, formerly ISIS) militants, following his homecoming. The 39-year-old man earlier claimed that IS had forced him to work as a medic in Syria.
"It will be alleged that the man, while in Syria, knowingly provided support to the terrorist organization known as Islamic State," the Australian Federal Police said in a statement.

Adam Brookman is the first person to be charged under a new Australian law, which prosecutes any person who visits the current Islamic State stronghold in the al-Raqqa province in Syria when they return to Australia, police said on Friday, according to AP.

Brookman could spend up to 25 years behind bars.
READ MORE: Aussie doc says ISIS needs medical 'brothers & sisters' in 'jihad' against West
The man is a 39 year-old Muslim convert and father of five children who lives in Melbourne. He denies any involvement in the "violent and extreme actions" of IS militants and says he opposed them.
The "subject to ongoing investigations" told Fairfax Media in May that last year he went to Syria to do humanitarian work for civilians and became involved in the ongoing conflict in the region. He was injured in an airstrike and militants took him to a hospital, forcing the nurse to join them.
"After I recovered, they wouldn't let me leave," Brookman told Fairfax. "Of course there will be an investigation. That is fine. Hopefully things don't look that bad."
READ MORE: Australian woman abandons kids to live with ISIS
So, he had to work as medic for some time till December, when he managed to escape to neighboring Turkey and surrendered to authorities. Now, escorted by the police, he was voluntarily returning to his homeland after negotiating with the government, Australian Federal Police said in a statement.
"The public can rest assured that any Australian who is identified as a threat to security will be investigated by the relevant agencies," the statement said. "If there is evidence an Australian has committed a criminal offence under Australia law while involved in the conflict in Syria and Iraq, they will be charged and put before the courts."
READ MORE: Australia to revoke citizenship of home grown jihadists
Last December, Australian authorities announced that being in al-Raqqa with no good reason is a crime that could lead to ten years behind bars. Should any charges appear, Brookman would have to provide the court with legitimate reasons for staying in the region, occupied by terrorists.
In June, police issued a warrant for arrest of Australian doctor Tareq Kamleh, who is working in an al-Raqqa hospital and was identified as appearing in a recruitment video of the Islamic State. Introducing himself as Abu Yusuf, the 29 year-old former pediatric registrar called on Western medics to join him in his effort to "help" the "Jihad" of Islamic State.
In Australia, Kamleh faces up to 45 years in prison for three terrorism offenses.
READ MORE: Australia's PM Abbott shown using out-of-date map to spot terrorist strongholds
Prime Minister of Australia Tony Abbott previously stated that at least 70 Australians were in Iraq and Syria, fighting in the ranks of militants, and approximately 100 "facilitators" were based in the country.
This year, Abbott also excluded the possibility of an amnesty for Australian citizens, who could decide to return home upon leaving foreign militant groups.
The numbers of foreign fighters, who have joined Islamic State militants from all around the world, is estimated to be in the thousands by security analysts.