Communist parties in Ukraine banned from elections – Justice Ministry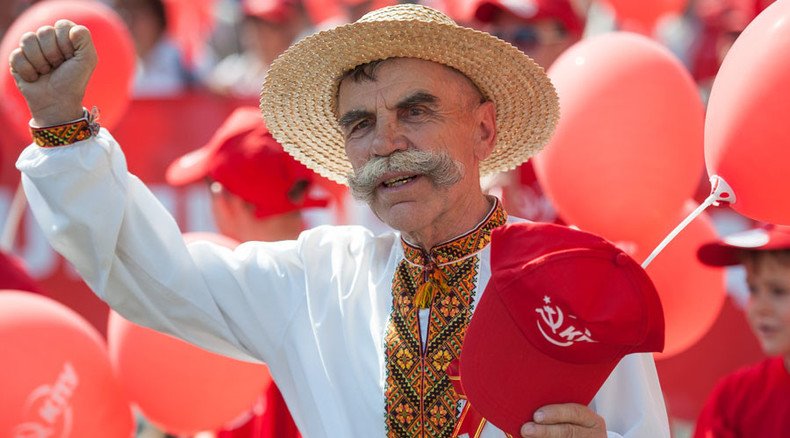 The Ukrainian Justice Minister Pavel Petrenko has signed a decree banning all communist parties from participating in elections in the country.
"You know, I think today is the day of historical justice. Today the minister has signed the decision according to legislation adopted by the Upper Rada [upper chamber of the Ukrainian parliament]. In accordance with this law communist parties lose their right to take part in political and election processes," the secretary of Ukraine's national security council Aleksandr Turchinov said during a briefing on Friday.
Three communist parties are now prohibited from being elected, Justice Minister Petrenko said.
READ MORE: 'Threat to free expression': OSCE slams Kiev over 'decommunization' law
However, the communist parties will defy the decision: the leader of Ukraine's Communist Party Pyotr Simonenko declared his party would participate in the elections, despite the ban.
It comes in the footsteps of the de-communization law signed by Ukraine's President Petro Poroshenko on May 15.
The legislation comprises the ban on Soviet symbols, and the condemnation of communist and Nazi regimes.
READ MORE: Ukraine bans Communism & Nazism, celebrates UPA nationalists as 'freedom fighters'
The communist leaders condemned the law, saying it represents the "trampling of democratic norms and European values and attitudes.
"This is political corruption, political immorality… It's an attempt to establish political dictatorship," Simonenko said.
The legislation also came under fire from the OSCE, with the organization saying it could put freedom of speech under threat.
In April, the Russian Foreign Ministry also condemned the law, noting their "anxiety" and "concern" over the "fight with the heroic Ukrainian past carried out by the forces who took over the power." It added that the Ukrainian government had adopted laws limiting "freedom of thought, conscience, and views."
You can share this story on social media: