EU delegation 'extremely concerned' about Israel's plan to raze Palestinian village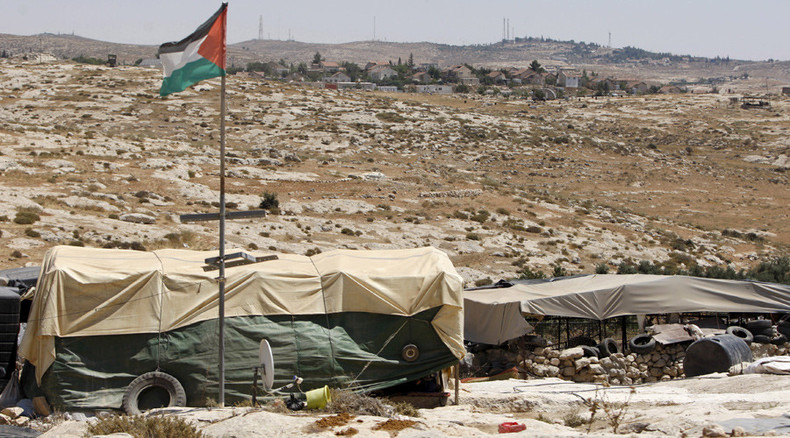 Israel's plan to destroy a Palestinian village and leave about 350 people homeless has sent a wave of outcry beyond Middle East. European MP Martina Anderson has expressed "extreme concern" about the destiny of the village.
"The situation is unacceptable," said Martina Anderson, President of the European Parliament Delegation for Relations with the Palestinian Legislative Council in a state on Wednesday, Kuwait News Agency (KUNA) reports. "The villagers face expulsion from their own lands and they have nowhere to go," she added.
"Such ongoing violations of Palestinians' Human rights are contrary to Article 2 of the EU-Israel Association Agreement which states that the relationship is based on mutual respect for human rights and democratic principles," Anderson said.
"The EU cannot continue to tolerate persistent violations of the agreement by Israel," she concluded.
READ MORE: NUS president attacked for breaking Israel boycott policy
In June, diplomats from all 28 EU member states visited Susya to protest the Israeli decision.
Last week the US also criticized Israeli intent to demolish the village. "We strongly urge the Israeli authorities to refrain from carrying out any demolitions in the village," said State Department spokesperson John Kirby in a press briefing on July, 16.
Along with international reaction the problem of Susya causes an outcry of the Palestinian authorities.
"The Israel occupation has systematically pursued a policy of forcible transfer of civilian Palestinian populations, which is a crime against humanity under International law, and in the process has replaced the indigenous Palestinian population with foreign settlers throughout Occupied Palestine," said Saeb Eraekat, PLO Executive Committee Member and Chief Negotiator, Palestine News Network reports.
"Some of the most dramatic examples of such policies can be seen in the villages of Abu Nawar and Susya, in Jerusalem and Hebron respectively," he added.
The Palestinian village of Susya, which is situated near the southern border between Israel and the West Bank on a site of an ancient Jewish settlement, has existed since the 1830s. In the early 1980s, Israel established a Jewish settlement near the village and in June, 1986 expropriated the residential ground for creating an "archeological park."
READ MORE: 'It's all ours': Israeli deputy FM slams Western interference, saying Holy Land is Jewish
After that several waves of expulsions and demolitions took place – in 1990, 2001 and 2011. As a result, the most Palestinian settlement was destroyed and many people were forced to live in tents and lean-tos. Palestinian attempts to rebuild their demolished houses were deemed illegal.
In May, 2015 the Supreme Court of Israel approved destruction of the rest of the settlement. 37 buildings are to be demolished immediately. 22 of the buildings that are set to be destroyed are EU funded and one of them is a medical clinic which is financially supported by the Italian government. Solar panels, greenhouses and water wells are also set for demolition.
"Every morning we wake up frightened this might be the day that our village is destroyed. We won't leave though, this is our land," villager Iyam Nawajah told ITV News.
Israel does not recognize right of Palestinians to live in Susya. "The question is was there ever a village here or in the location that they've set up between this ancient town of Susya and the Jewish community of Susya?" Ari Briggs, a Jewish land rights advocate said as cited by ITV News. "That's never been proven, it can't be proven," he added.