#Trilliondollarbaby: See enormous 'platinum' asteroid worth $5 trillion on its Earth flyby (PHOTO)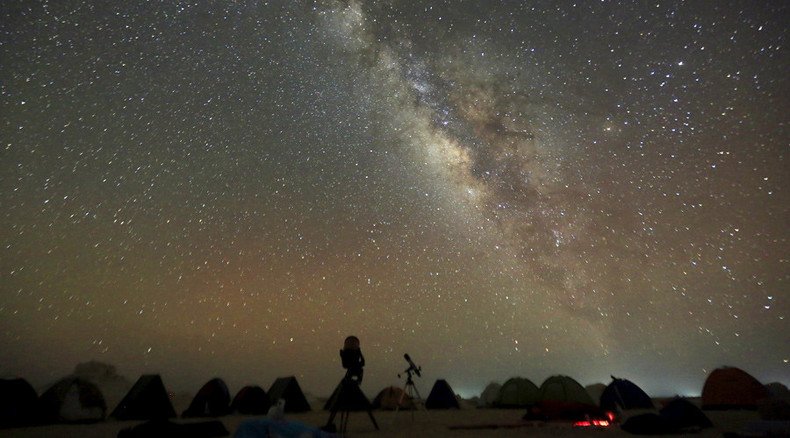 The asteroid called #trilliondollarbaby on Twitter was tracked passing Earth by the Slooh telescopes on the Canary Islands. Believed to be carrying millions of tons of platinum, its close flyby made people wonder how to grab the precious space object.
READ MORE: 'Platinum' asteroid potentially worth $5.4 trillion to pass Earth on Sunday
Officially named 2011 UW158, the platinum asteroid, which is also believed to carry other rare and precious materials, swooshed past our planet at a distance of an estimated 2.4 million kilometers (1.5 million miles) - which is pretty close as far as space distances go, only six times further away than the Moon's orbit. Astronomers did not, however, consider it a potential threat to our planet.
Platinum asteroid on Earth flyby

Puerto Rico's Arecibo Observatory (you could've seen it in 007:Golden Eye) got images of #Trilliondollarbaby Asteroid 2011 UW158, made of platinum and worth $5 trillion on its Earth flyby.More #UW158 images: http://on.rt.com/6nku

Posted by RT Play on Wednesday, July 22, 2015
Although it was impossible to see with the naked eye, the asteroid's flyby was broadcast online by the Slooh Community Observatory based in the Canary Islands.
Having revealed the first detailed images of the #trilliondollarbaby last week, when it was some nine times further from us than the Moon, Puerto Rico's Arecibo Observatory said the object "is not the average asteroid."
It "was found to have an odd shape much like an unshelled walnut with a diameter of 300 by 600 meters (1000 by 2000 feet)," the observatory whose Planetary Radar program is supported by NASA's Near Earth Object Observation program, said on Facebook.
The platinum asteroid rotates "very rapidly" - once every 37 minutes, scientists said. They also suggested that it might be "one solid body rather than many smaller rocks held together by gravity," as otherwise the space body would have broken up due to its fast spin. "Only two other asteroids this large and rotating this fast have been observed before," added the Arecibo Observatory, home to the largest and most sensitive single dish radio telescope in the world.
READ MORE: NASA aims to land on, capture asteroids within next 15 years
When the composition of asteroid 2011 UW158 was established with the help of spectrometers measuring the intensity of light reflected from an object, the proximity of its orbit to Earth made it a possible desirable target for future robotic mining missions. With the #trilliondollarbaby expected to make a similar flyby in 2108, there is still plenty of time to invest billions in a number of space projects to be able to grab objects like this platinum "baby."
You can share this story on social media: