'Platinum' asteroid potentially worth $5.4 trillion to pass Earth on Sunday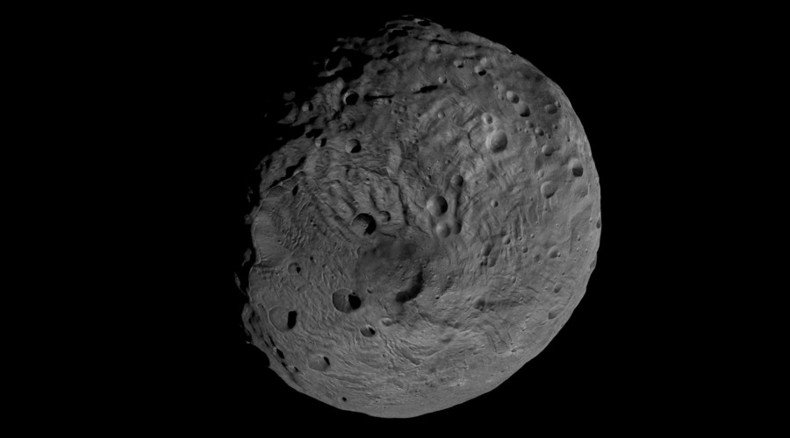 An asteroid believed to be carrying up to 90 million tons of platinum in its core, as well as other rare and precious materials, is about to swoosh past our planet. The news has left developers of asteroid-mining technologies intrigued.
The platinum-rich asteroid officially named 2011 UW158, is 452 meters by 1,011 meters in size and will pass Earth at a distance of an estimated 2.4 million kilometers, according to the Goldstone Radar Observatory. It will be 30 times closer to Earth than the closest planet of the Solar system.
READ MORE: Narrow miss: Kilometer-wide asteroid to brush close to Earth
However, when the asteroid does pass, it will still be six times further away than the moon's orbit, so it will be impossible to see 2011 UW158 with the naked eye.
If you don't happen to own a telescope – fear not. The Slooh Community Observatory is undertaking a project, which links powerful telescopes to the internet for public use, will broadcast images of the mineral-rich asteroid, from an observatory in the Canary Islands.
It will be possible to watch 2011 UW158 LIVE at Slooh's Live Stadium at 22:00 GMT on Sunday.
The proximity of asteroid's orbit to Earth has already put it on the 'wish list' for future robotic mining missions. According to different estimates, it might contain ore of precious metals and other minerals worth from $300 billion, to an incredible $5.4 trillion.
READ MORE: NASA aims to land on, capture asteroids within next 15 years
The composition of asteroid 2011 UW158 has been established with the help of spectrometers measuring the intensity of light reflected from an object.
The broadcast from Slooh will include commentary from network's host Eric Edelman and Slooh astronomer Bob Berman about the asteroid itself and the "lucrative material it harbors."
READ MORE: Asteroid-mining company crowd sources to build telescope
"It's always fun when an asteroid whooshes past our world," Berman said in a Slooh announcement. "What makes this unusual is the large amount of platinum believed to be lurking in the body of this space visitor. Can it be mined someday, perhaps not too far in the future?"
The so-called Planetary Resources group, an asteroid mining venture with financial backing from Google bosses Eric Schmidt and Larry Page, as well as British billionaire Richard Branson, defines asteroids like UW-158 as suitable for mining 'X-type,' having catalogued dozens of similar prospective targets across the solar system.
On Thursday, the company launched their first demonstration of the Arkyd 3 Reflight (A3R) vehicle from the International Space Station's Kibo airlock - to test technologies for mining asteroids.
The vehicle was delivered to the ISS aboard the SpaceX Falcon 9 in April. During its 90-day orbiting mission, the vehicle will be sending data to a group of scientists based at the firm's headquarters in Redmond, WA.
You can share this story on social media: