New UAE anti-discrimination law prohibits insulting God, prophets, holy books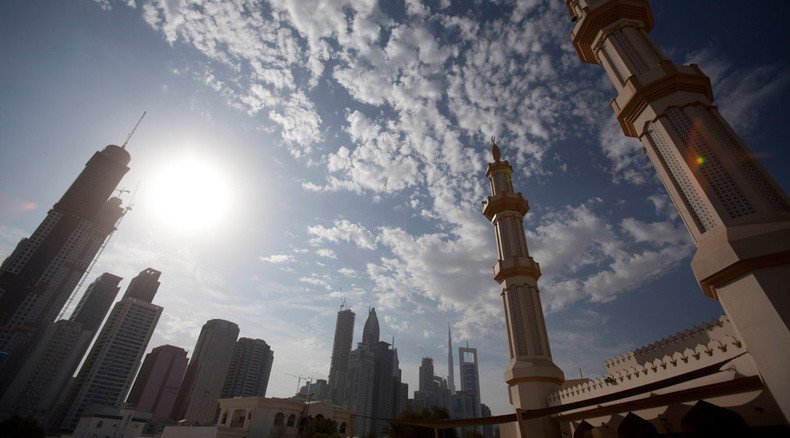 The United Arab Emirates have adopted a new law, which criminalizes all forms of discrimination, protects religion and religious institutions, bans vandalism, insults to God, prophets and the like. It also bars epithets such as "infidel" or "unbeliever."
The Anti-Discriminatory Law was enacted by Khalifa bin Zayed Al Nahyan, the president of the federation of seven hereditary monarchies, the state news agency Wam reported on Monday.
The law criminalizes all forms of discrimination on the grounds of religion, caste, creed, doctrine, race, color or ethnic origin. It bans hate speech through any media with the intention of providing a "sound foundation for the environment of tolerance, broad­mindedness and acceptance in the UAE and aims to safeguard people regardless of their origin, beliefs or race, against acts that promote religious hate and intolerance."
The new legislation doubles as anti-blasphemy law, as it prohibits any insult of "God, his prophets or apostles or holy books or houses of worship or graveyards." It prohibits "any act that amounts to abuse of religion or vandalism of religious rituals" and bans speech inciting religious hatred, particularly calling other people infidels or unbelievers.
READ MORE: Facebook post lands Australian woman in UAE prison
The law apparently targets radical Islamist groups like Islamic State, which routinely labels Muslims who don't support its extremist cause as apostates. It calls on violators to submit themselves to the authorities, saying a court will waive penalties in such cases. Violating the law brings a prison sentence of up to 10 years or a heavy fine.
Public figures in the UAE praised the new law, saying it's very progressive.
"This new anti-hate law serves as a model for the rest of the world at a time when hate is spreading across the region and the globe," Theodore Karasik, a geopolitical analyst, told the Gulf Times.
"Not only does the new law enforce tolerance on those who harbor hate, but also puts the UAE ahead of any other country in the world in terms of stifling anger over 'those who may be different' through stereotypes. There is no space in the UAE for this type of behavior because the phenomena [are] counterproductive, hurtful, and demeaning," he added.
READ MORE: Iceland's Pirate Party gets law passed abolishing 'blasphemy'
Given the country's poor human rights record, however, there are concerns the law will be used to actually crack down on prejudice and discrimination.
"The concern is clearly that it will be used to further stifle speech under the guise of promoting tolerance," Nicholas McGeehan, Gulf researcher at Human Rights Watch, told Middle East Eye.
The UAE is criticized by rights groups for abusing foreign workers and stifling dissent, among other things.
You can share this story on social media: