Russia's Platform-M combat robot on display in Sevastopol (VIDEO)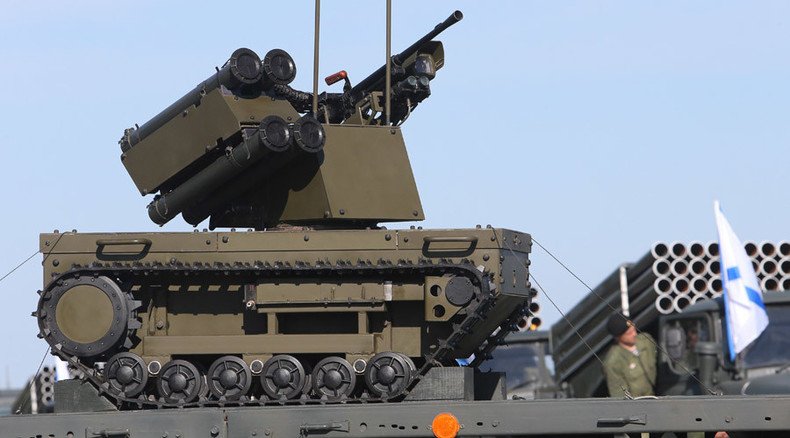 The Russian Army has been showcasing state-of-the-art military equipment in the city of Sevastopol on the Crimean Peninsula, boasting its Platform-M combat robot which can be used both for patrolling and attacks.
Platform-M is a remote controlled robotic unit on a crawler, armed with grenade launchers and Kalashnikov rifles. It was revealed last summer during a Russian military drills near Kaliningrad.
According to its developer, Progress Scientific Research Technological Institute of Izhevsk, Platform-M can be used "for gathering intelligence, for discovering and eliminating stationary and mobile targets, for firepower support, for patrolling and for guarding important sites. The unit's weapons can be guided, it can carry out supportive tasks and it can destroy targets in automatic or semiautomatic control systems."
It's equipped with optical-electronic and radio reconnaissance locators, which enable the Russian robot to perform combat tasks during the night without unmasking itself. Platform-M is a universal platform that can be supplies "with a variety of defensive chassis and weaponry," the developer added.
Sunday's open-air expo, which gathered hundreds of spectators at the home of Russia's Black Sea Fleet, also included a wide range of weaponry from 'Bastion' air defense and anti-ship complex missile systems to sniper rifles and special ops naval guns.
The event which was also a promotion campaign saw over 1,500 people applying for contract service in the Russian military, according to Admiral Aleksandr Vitko, the Black Sea Fleet commander.
The Black Sea Fleet is meanwhile reducing the number of conscription troops with the aim of filling at least half of its contingent with highly-trained contract soldiers.
You can share this story on social media: