Royal welcome: France shuts public beach for Saudi visit, outrages locals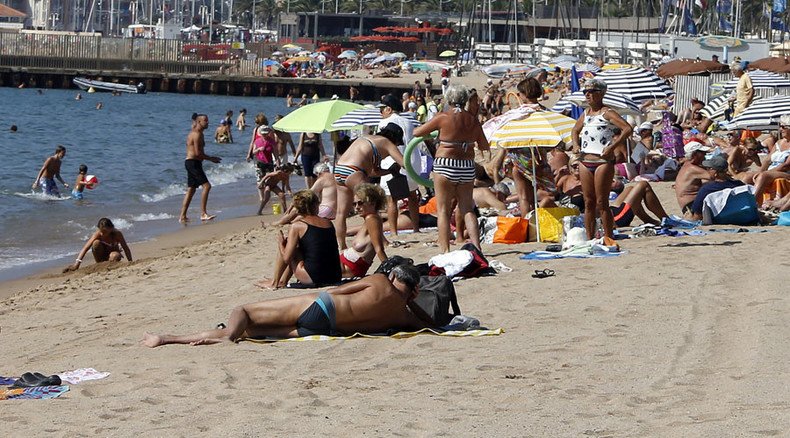 Local residents have been barred from a public beach on the French Riviera ahead of the Saudi royal family's visit later this summer. The decision to close the beach, allegedly for security reasons, has triggered a wave of outrage from the locals.
The Saudis have rented out a villa above the beach, located in the southern French commune of Vallauris. The building has been unoccupied for several years.
A construction crew began to gear up for the visit several weeks ago. One of the upgrades installed in the house is a staircase or a lift that will connect the villa to the beach directly.
Local authorities said that people will be prohibited from using the public beach while the Saudi royal family is staying there.
READ MORE: Flagraphobia: Cameron defends half-mast tribute to controversial Saudi King
On Wednesday, angry residents discovered that the tunnel, which is the only public entrance to beach, has been blocked with a fence. In addition, a concrete slab has been constructed at the beach's entrance.
Residents filed a complaint with the local government, arguing that proper permits had not been filed prior to the installation.
"We made a complaint to the Town Hall about the disregard for planning laws … the installation of a staircase or a lift, or whatever else is being carried out without planning permission," a local told France 24.
READ MORE: Saudi royal reshuffle likely to ensure kingdom's US loyalty for decades
Authorities concluded that the builder's actions were illegal, and confirmed that the proper permits had not been received in time. "We have had no planning application for this work," Vallauris Mayor Michelle Salucki told local newspaper Nice Matin.
"Local police have been alerted and have been told to remove this obstruction to public access," Salucki said. "The law must be respected and no decree has been issued by the regional prefect [the chief representative of the French state's authority] blocking access to this public beach."
However, the sub-prefect of the local town of Grasse, Philippe Castanet, told AFP that the Saudi royal family had been given the green light to use the public beach as a private space during their stay. Castanet agreed, however, that blocking the beach as early as Wednesday was "premature."
READ MORE: Chinese boss pays for 6,400 employees to go on luxury French vacation
"These works went ahead before the ongoing negotiations between France and the Saudi authorities over the security arrangements during the royal family's stay in Vallauris had been finalized," he said.
"This public beach will be completely closed off during the Saudi royal family's visit … We are still negotiating how they will be protected, by security agents or police, whether or not areas will be fenced off from the public, and exactly when we will be able to re-establish full public access to the beach."
You can share this story on social media: