Flying space junk sees ISS crew take refuge in Soyuz craft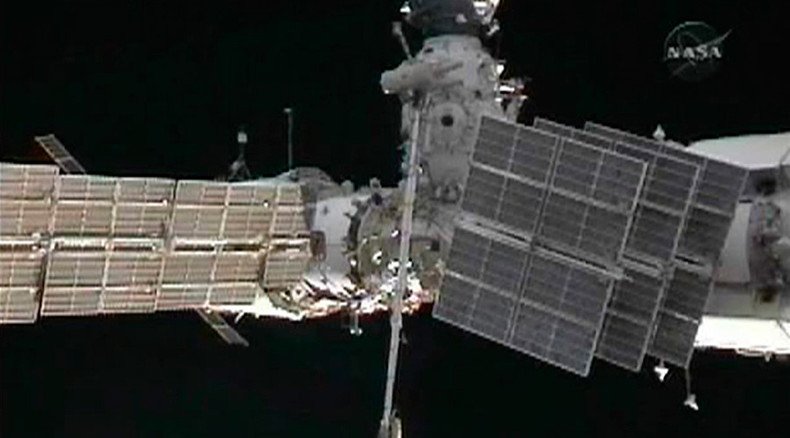 Astronauts had to seek shelter inside the Soyuz vehicle, docked to the ISS, as space debris unexpectedly approached the station. However, the crew of two Russians and an American, were soon given the all clear to return back to the station.
As the information on approaching debris appeared too late to carry out an orbit adjustment of the International Space Station (ISS), the current three members of its crew had to stay inside the Soyuz vehicle for about 10 minutes, according to Roscosmos.
READ MORE: 40 years since Soyuz-Apollo: Handshakes in space as USSR, US fly together
"The data on the debris appeared unexpectedly, there was no time to sustain the operation of ISS orbit adjustment," a spokesman for the Russian Mission Control Center told TASS.
According to the safety instructions for such situations, the crew has to move to the most protected place on the station, that is, its manual spacecraft, and close the passageways, a space industry source told Interfax. The source added that the American party is responsible for the detection of possible collisions.
The source also added that the debris was a piece from an old Soviet weather satellite "Meteor-2," which was launched into space in 1979.
Oooh something's kicked off on the ISS? Wonder what the scoop is..

— Nick Howes (@NickAstronomer) July 16, 2015
"The crew of the International Space Station is resuming normal operations after getting an all clear from Mission Control following a close pass by space debris this morning at 7:01 a.m. CDT," a NASA press release stated. "All station systems are operating normally and the crew will move out of the Soyuz spacecraft in which they stayed during the debris pass."
READ MORE: Switzerland to send 'Pac-Man' into orbit to clear space junk
Russian cosmonauts Mikhail Kornienko and Gennady Padalka, as well as NASA astronaut Scott Kelly are currently onboard the ISS. Three more members are set to join them on the space station shortly, with astronauts from the US, Japan and Russia sent to blast off from Earth on Wednesday.
Similar occurrences of debris passing dangerously close to the ISS, have happened on three previous occasions. The US Space Surveillance Network, which is responsible for monitoring of orbital debris, says that close encounters happen around once a year.
Space junk and debris, which is constantly orbiting the Earth, move at speeds up to 10 km/s. Therefore, even small objects can pose a considerable threat to the International Space Station and other operational space craft.
You can share this story on social media: