Switzerland to send 'Pac-Man' into orbit to clear space junk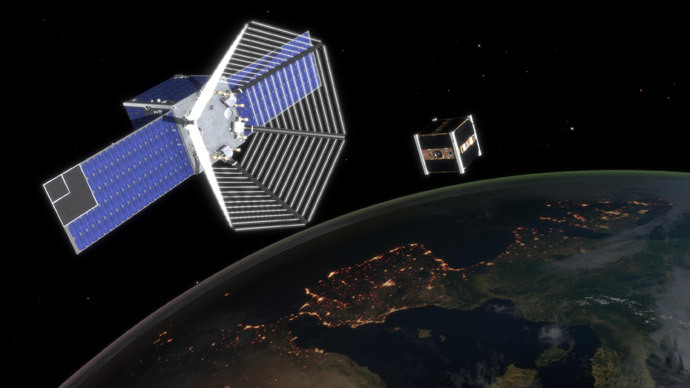 The Swiss "Clean Space One" project has come up with a cleanup satellite to capture space debris. In a so-called "Pac-Man" solution, it will capture an old satellite before destroying it in the Earth's atmosphere.
Engineers from Lausanne's Swiss Federal Institute of Technology (EPFL) have been tasked with creating an effective object to capture space junk, without it becoming just another piece of rubbish itself. The solution has finally been found, with a "Pac-Man"-style technology, EPFL announced Monday.
After three years of research, engineers have come up with a new space cleanup device to be sent into orbit. It is expected to deploy a conical net to catch an old SwissCube satellite. The net will unfold and then close with a piece of space garbage trapped inside. Both objects will then combust in the atmosphere, scientists say.
The "Pac-Man" satellite could be launched in 2018, EPFL said.
Simulation of space debris orbiting Earth via /r/space http://t.co/nN79vmsBmEpic.twitter.com/HYCBDaS1LG

— Joshua Oakley (@JoshuaStarlight) June 27, 2015
The mission's objective is "to increase the awareness that orbital debris is a problem and we are doing something about it," said Muriel Richard, of the EPFL Space Engineering Center.
READ MORE: Astronaut Paolo Nespoli to RT: 'A Spacewalk is a brutal activity; you are always in danger'
The sheer volume of space junk around our planet – including such man-made objects as broken down satellites and spent rocket stages, is growing "at an alarming rate," EPFL scientists said in a statement Monday. Flying at a speed of 7 km (4.35 miles) per second, they pose "a serious threat to the devices and people working in space," they said, adding that NASA "carefully monitors every item larger than 10 cm (3.9 inches)."
READ MORE: Mysterious Russian satellite sparks 'orbital weapon' speculation
The SwissCube satellite, which is expected to be caught up with the new cleaning device after having spent over five years in orbit, is 10cm by 10cm in size. Detecting it in space will be the first challenge, as the object is constantly spinning, with its illumination changing.
"These variations can perturb the visual approach system and thus also the estimates of its speed and distance," EPFL's PhD student Christophe Paccolat said.
READ MORE: Scientists discover 'permanent' dust cloud around Moon
The next challenge will be to grasp the small satellite and hold it inside. "There will be an extra layer of carefulness that we will have to add in order not to have SwissCube bounce back before we have time to close," Muriel Richard said, adding that "so far that is one of the major issues."
READ MORE: Not quite 'Armageddon', but close: NASA to launch asteroid capture mission
Clean Space One is just one of the projects that international researchers have been working on to eliminate the danger of debris piling up in orbit. In April, Japanese scientists have come up with a project suggesting space junk to be conquered by a laser mounted to the International Space Station (ISS).
"Scientific studies have shown that there's a total of around 500,000 pieces of space debris in orbit that is between 1 cm and 10 cm in size, but too small to track regularly," Brian Weeden, technical advisor at the Secure World Foundation, told Via Satellite in June. He added that he estimates some 22,000 human-generated objects larger than 10 cm are tracked orbiting Earth by global organizations.
You can share this story on social media: