Russia sends 2 planes with 46 tons of humanitarian aid to Yemen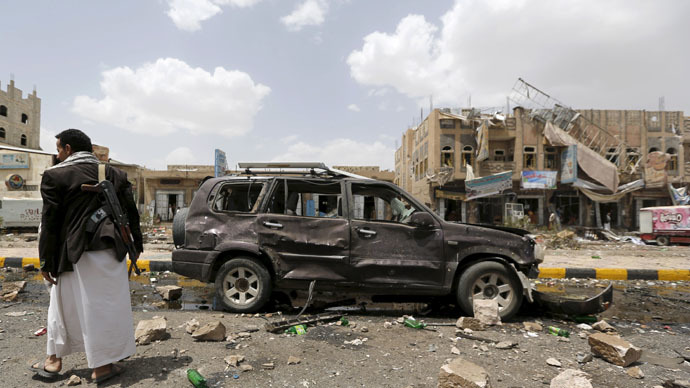 The Russian Emergencies Ministry has sent two Il-76 planes with food supplies to Yemen, following a request by the country's government. Over 46 tons of humanitarian aid, mostly food, has been delivered.
The planes have landed in the capital, Sanaa, and were met by representatives of the local caretaker authorities.

"The delivered cargo is something the population urgently needs due to the armed conflict in our country – food supplies," Mohammed Harmal, from the Executive Unit for Internally Displaced People, has said.
Самолеты МЧС России доставили гуманитарную помощь в Йемен http://t.co/zUA6Tga4Pq#мчс #гумпомощь #йемен@MID_RFpic.twitter.com/tXZetZkJdg

— МЧС России (@MchsRussia) July 15, 2015
Yemen imports over 90 percent of its food supplies, and has been experiencing nutrition shortages for months. Even the food that gets to the conflict-hit territory is delivered very slowly because of fuel shortages.
The lack of safe drinking water supply has also turned into a widespread problem in Yemen, a country of vast sand dunes and desert.
At the same time, 118 people have been evacuated from the war-torn zone by the Russian Emergencies Ministry.
READ MORE: 30 civilians dead in Saudi-led airstrikes on Yemeni market
The aircraft are set to land in Moscow on Wednesday evening. The passengers are accompanied by certified emergency medics and psychologists.

The evacuations by the Russian ministry have been going on since April, when 1,700 people from 20 countries were transported from the war zone into safety.

Since early 2015, Yemen has seen a deadly conflict between Houthis, the main opposition group, and the government forces. Over 1,600 people have been killed, and 21 million are currently in need of humanitarian aid.
You can share this story on social media: