30 civilians dead in Saudi-led airstrikes on Yemeni market – report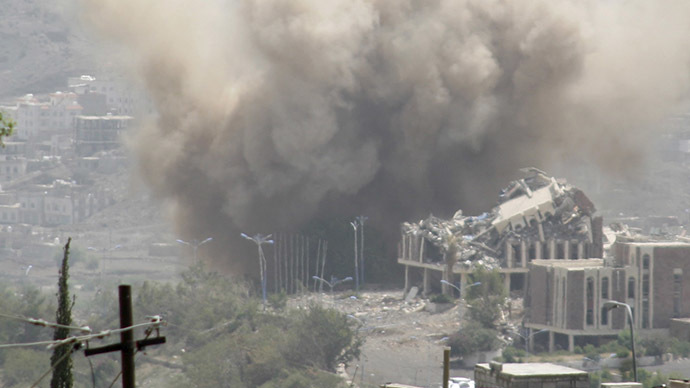 As many as 30 civilians were killed in Saudi-led airstrikes that hit a market in northern Yemen on Sunday, the Houthi-run news agency Saba has reported.
The news agency said an unspecified number of people were injured in the attack on the Aahem market in Hajjah province.
In response, Houthi forces launched several rocket attacks against Saudi army positions, including a military airfield in Najran, the al-Sharafa army camp, as well as tanks stationed north of the al-Khoba region in the Saudi province of Jizan.
"The Saudi enemy targeted citizens while they were doing their shopping at Aahem market," Saba quoted a security source as saying.
Local residents confirmed an air strike on the market, although they gave no details about the number of casualties, saying that Houthis had closed the area and were transporting the wounded to hospitals, Reuters reports.
READ MORE: Collateral damage: Yemeni man loses 27 family members in 1 Saudi airstrike
The Saudi-led coalition has yet to comment on the incident.
UN seeks a humanitarian pause
This recent incident took place amid UN efforts to broker a humanitarian pause in the fighting that has claimed 3,000 lives since March. The pause, intended to allow deliveries of humanitarian aid, is planned to last until the end of the Muslim holy month of Ramadan, on July 17.
Ismail Ould Cheikh Ahmed, the UN's special envoy to Yemen, intended to travel to Sanaa on Sunday for talks with the Houthis after wrapping up negotiations in Muscat, during which Saudi-led forces demanded that Houthis and their allied units guaranteed they would not use the pause to advance on the South or eastern Yemen's territories held by forces loyal to the president Hadi.
Houthi spokesman Mohammed Abdul Salam said he had also met with Ould Cheikh Ahmed in Muscat on Friday to discuss the issue along with EU and German ambassadors who were attending the meeting, as reported by Reuters.
READ MORE: Over 1,000 inmates, incl Al-Qaeda suspects, escape Yemeni prison
On Friday, the UN also warned aid groups to be prepared for a potential humanitarian pause.
The Saudi-led Arab coalition has been carrying out air strikes against the Iran-allied Houthi Shia rebels since March as they try to restore exiled president Abd-Rabbu Mansour Hadi to power.
Last week, the United Nations classified the war in Yemen as a humanitarian crisis of the most severe category, giving it Level 3.
You can share this story on social media: