Mexico volcano eruption forces hundreds to flee their homes (VIDEO)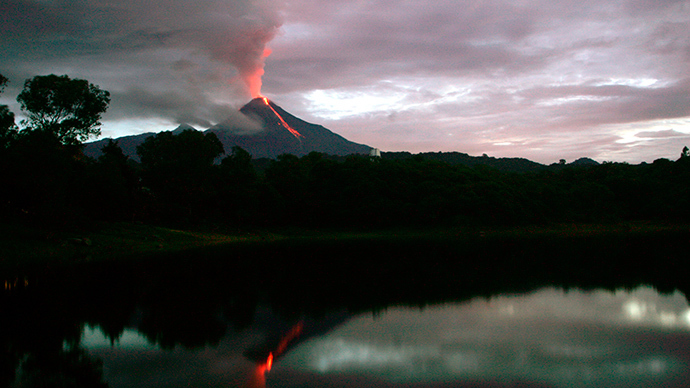 Some 800 people have been evacuated from the area immediately surrounding the Colima volcano in Western Mexico due to increased volcanic activity and large amounts of ash being spewed from the crater, falling from the skies onto surrounding communities.
The number of people living in the 12-kilometer, now sealed off, area around the crater is "very small and don't exceed 800 inhabitants," a national civil protection coordinator Luis Felipe Puente told AFP.
"They have all been evacuated," he announced. Meanwhile, authorities have closed the airport in the state of Colima, due to the high amount of volcanic ash "falling in the area."
The Health Secretariat said they are distributing face masks to the affected population as well as information on side effects caused by the inhalation of ash and contaminated drinking water.
The authorities are monitoring the volcanic activity "minute by minute," expecting three possible scenarios: a slow fading of activity over the next months, the collapse of the volcano's domes, or a major explosive eruption.
The volcano began erupting on Thursday and has become increasingly active. Scientists at the University of Colima and Guadalajara performed a flyby of the volcano to observe the conditions at the crater and its eruptions. So far, the volcano's behavior is being described as "atypical," resembling the strong eruption of 1913.
#Mexico's #Colima volcano awakens. ESP. pic.twitter.com/KU3PVJ1grShttp://t.co/VtXXbvzo9G

— Hyper Observer (@HyperObserver) July 10, 2015
Colima's last large explosive eruption occurred on January 20, 1913 and lasted for four days. The eruption was characterized by its ash flows and the formation of a summit crater measuring 300 meters in depth.
The Colima Volcano, also known as the "Volcano of Fire" is one of the most active in Mexico. It is included in the Colima Volcanic Complex, a prominent center of the Western Mexican Volcanic Belt.
You can share this story on social media: