Ultimate conclusion is vital for MH17 victims' relatives – Malaysian PM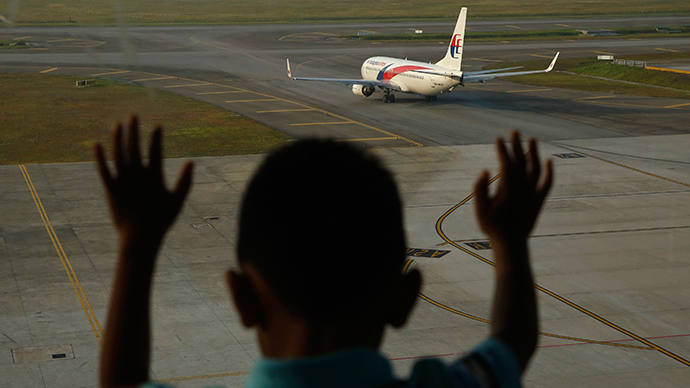 A memorial service in honor of the MH17 flight victims has been held in Kuala Lumpur, marking almost a year since the tragedy. The Malaysian PM asked for "the fullest cooperation" internationally in gathering irrefutable evidence against the perpetrators.
The fullest cooperation of all nations concerned is vital so that the investigation will be able to "gather irrefutable evidence as to what happened and especially as to who were responsible for this unforgivable incident," Malaysian Prime Minister Mohd Najib bin Abdul Razak said.
"Closure to this incident is absolutely vital," he added. "So that all the next of kin can continue with their lives. Therefore the ultimate action of finding who were responsible and bringing them to book and to justice must be carried out."
Some 1,000 people, relatives, friends and loved ones, attended the ceremony and held a minute of silence remembering those they lost. Razak urged the families to stay strong until the investigation into the tragedy is complete.
While the joint international investigation team had a "clear picture" of what had caused the crash of Malaysia Airlines Boeing 777 over Ukraine on July 17 last year, the minister emphasized that the probe is far from over.
"Investigators now have a clear picture on the possible cause of the crash and are currently analyzing and investigating all possible scenarios," he said as cited by the Malaysian New Straits Times.
This morning, we gathered at KLIA for a memorial service for Malaysia Airlines flight MH17 http://t.co/H03SchdUMqpic.twitter.com/wuaeR0bYbj

— Mohd Najib Tun Razak (@NajibRazak) July 11, 2015
"The criminal investigation will continue for now," he added, saying that the procedures were expected to last at least till this year's end.
READ MORE: Malaysia excluded from MH17 probe – for 'not pointing fingers at Russia'?
The technical investigation team led by the Dutch Safety Board and made up of experts from the Netherlands, Malaysia, Ukraine, the US, Russia, UK and Australia is expected to submit its final report in October, The Malaysian Insider reported the PM as saying. In June, accredited representatives of each country involved in the investigation received a draft of the report.
READ MORE: 'Least visited crash site in the world': More blame than answers 6 mo after MH17 tragedy
Flight MH17, which was shot down over eastern Ukraine, was en route from Amsterdam to Kuala Lumpur, carrying 298 people on board. Everyone on board was killed, with the tragedy's victims including the nationals of ten different countries, with 44 Malaysians among them. The investigation is led by the Netherlands, as the majority of the victims were Dutch.
You can share this story on social media: