​'Asylum dumping': Austria will 'temporarily' ship 500 migrants to Slovakia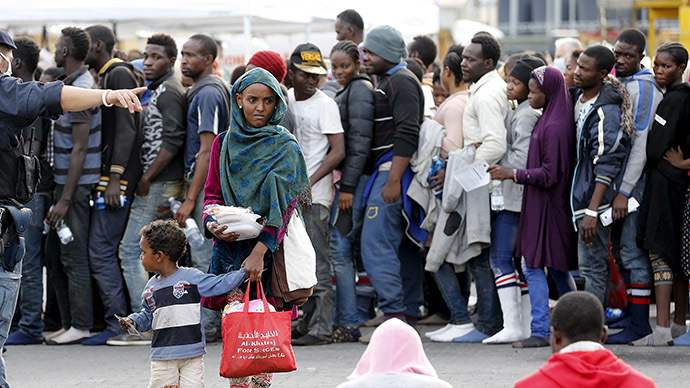 Because of the poor living conditions in one of the overcrowded refugee centers in Austria, the country is planning to send off hundreds of people to neighboring Slovakia, in a move that has been criticized as "asylum dumping" and a "disgusting horror."
The plan of the Austrian Ministry of the Interior is to send some 500 refugees to Slovakia because of the overcrowded conditions at Traiskirchen processing center. The sanctuary, currently housing around 3,200 people, lacks approximately 900 beds for people to sleep in. From the outset Traiskirchen was not designed to accommodate more than 480 people, Austria's The Local reports.
The migration of refuges will start this month and continue through to September. Those transferred are to be housed in university dorms in the Slovakian town of Gabcikovo. The first 50 people are expected to be moved to Slovakia this month, another 200 in August, and a further 250 in September.
READ MORE: Hungarian police fire tear gas to 'pacify' overcrowded migrant camp
The agreement is projected to last two years between the two neighboring states and is scheduled to be signed within the next few days. However, the ministry stressed the relocation would only shift responsibility for taking care of the refugees. The asylum application processing is to continue to be carried out by Austrian authorities. Once awarded asylum, refugees will return to live in Austria.
Austria and Slovakia will share the costs involved, so it is "likely to be a cheaper solution," said Austrian Interior Minister Johanna Mikl-Leitner. "With this initiative Slovakia is showing solidarity. It's a small step, but one which sends a great signal."
Slovakia's Interior Minister Robert Kalinak said that they are happy to help out its neighbor after Vienna showed strong support for Bratislava to join the Schengen zone a decade earlier. "We're not just friends on sunny days, but also on rainy days," he said.
Meanwhile the move to relocate people caused "disgusted horror" from Amnesty International Austria chief Heinz Patzelt, according to Austrian daily, Kurier. It was also met with a wave of criticism from the Austrian Green Party that called the measure "asylum dumping" and "neoliberal logic" that everything should be cheaper, including human rights.
According to EU latest figures, the number of migrants in the EU soared by 68 percent in the first five months of 2015 with many arriving from North Africa and the Middle East. Meanwhile the European Union set a new deadline of July 20 to reach an agreement to relocate over the next two years some 60,000 asylum seekers currently taking refuge mostly in southern Europe.