'Domestic church & best social capital': Pope Francis turns to family values in Ecuador
Published time: 7 Jul, 2015 03:18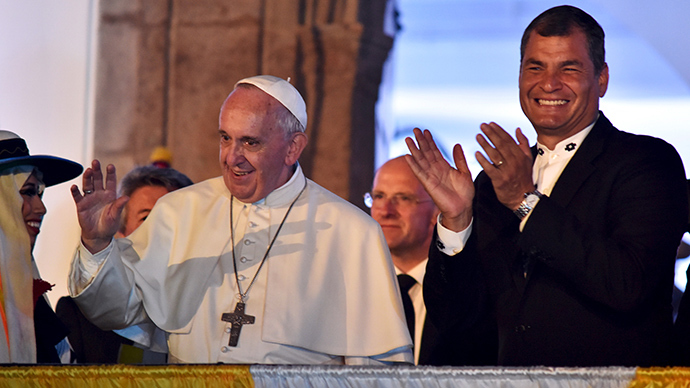 Hundreds of thousands of worshipers welcomed Pope Francis I in Ecuador as he kicked off his tour of South America. Addressing the crowds in Guayaquil, the Pope preached the importance of family.
Calling the family a "domestic church," Pope Francis wondered: "how many of our young people sense that [happiness, love, and plenty] are not found in their homes?"
"The family is the nearest hospital, the first school for the young, the best home for the elderly," he said during his address to the crowd which comprised of around 250,000 people. "The family constitutes the best social capital. It cannot be replaced by other institutions. It needs to be helped and strengthened lest we lose our proper sense of services, which society as a whole provides."
READ MORE: Pope Francis: Sometimes divorce can be a 'moral necessity'
Many pilgrims traveled from all over the country to get a chance at catching a glimpse of the pontiff. Thousands of pilgrims spent nights outdoors to hear the Pope's sermon and catch Latin America's first pope returning to his home soil.
As scorching sun and high humidity prevailed throughout the day, firefighters sprayed worshipers with water hoses to provide temporary relief.
READ MORE: Pope Francis to chew coca leaves during visit to Bolivia – minister
Returning to earthly matters, Pope Francis said that he hoped that the the second meeting of bishops on family life in October, would produce "concrete solutions to the many difficult and significant challenges facing families in our time."
Previous meetings with bishops on family issues last year highlighted divisions within the Church especially over gay rights and Catholic divorce and marriage outside of the church.
On his first visit to Latin America in two years, Pope Francis, who hails from Argentina, is also planning to meet with Bolivian President Evo Morales in La Paz on Wednesday and Paraguayan President Horacio Cartes in Asuncion on Friday as part of his eight-day tour that will focus on the issues of poverty and inequality.