​New acoustic detection system to make Russian Navy's 4th-gen stealth subs even quieter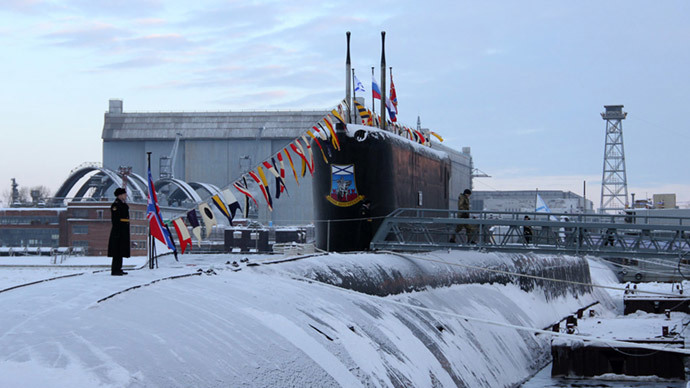 By the end of 2015 Russia's Northern Fleet is to deploy a novel acoustic detection system, which would verify that its newest stealth subs are as quiet as they should be to avoid being spotted during combat missions.
The system, called Batareya (battery), is currently in its final stages of development, senior researcher at the VNIIFTRI - an institute that develops various instruments for the Russian military - Sergey Tsigankov told TASS.
READ MORE: Russian radar locators, fighter jets to be deployed in the Arctic – Defense Ministry
"It will detect acoustic signatures of nuclear submarines, first of all those of the fourth generation," he said. "We are completing a prototype now and plan to deliver it to the Northern Fleet in the White Sea this year."
Detecting the signature of a modern stealth submarine that was built to be as quiet as possible is a difficult task. In fact their noise levels are usually lower than the ambiance of the sea itself. This may be good when a sub is on a combat mission trying to avoid detection, but gives a headache to its engineers trying to determine which equipment is the noisiest and should be muffled further.
READ MORE: Russian Navy's intel ship for monitoring US ABM systems 'to start tests in 2016'
The brute force approach to the problem is to have a testing range with as few ambient sounds as possible. Norway's Heggernes facility is used to check acoustic signatures of the submarines of European NATO members. The US Navy finished a new facility in Ketchikan, Alaska, several years ago.
The new Russian system can serve the same purpose without costly infrastructure investment, the producer said. It can pick sound signatures about two times less noisy than the ambient sounds.
The Northern fleet is to deploy Batareya hydrophones some 30 km off coast its submarine base, Tsigankov said. The data would be transmitted via a fiber optic cable.
"We chose this way for transmission because no western nation currently has a technology to intercept data from a fiber optic cable underwater. This channel is well-protected from surveillance," he explained.
You can share this story on social media: