FIFA's Blatter accuses French, German ex-presidents of meddling with World Cup vote
Published time: 5 Jul, 2015 17:08
Edited time: 6 Jul, 2015 18:03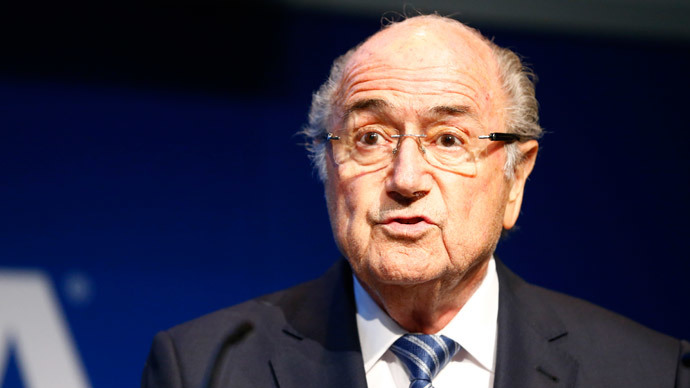 French ex-president, Nicolas Sarkozy, and his German counterpart, Christian Wulff, tried to influence the vote before FIFA World Cup were awarded to Russia and Qatar, Sepp Blatter, outgoing president of football's governing body, told German media.
"There were two political interventions" before the hosts of the 2018 and 2022 World Cups were announced on December 2, 2010, Blatter said in an interview with Welt am Sonntag newspaper.
"Sarkozy and Wulff tried to influence their voting representatives. Therefore, we now have a World Cup in Qatar," he said.
Even before the latest corruption scandal in FIFA, the awarding of the World Cup to Qatar was severely criticized due to extremely hot weather and dreadful conditions, created by the authorities for the foreign builders involved in the construction of the stadiums.
Blatter stressed that he's not the one to blame for Qatar getting the football's top event and that "those who decided it should take responsibility for it."
"I act on the leadership principal. If a majority of the executive committee wants a World Cup in Qatar then I have to accept that," he explained.
According to the FIFA president, president Wulff asked German football federation (DFB) "to vote for Qatar out of economic interests".
"Look at the German companies! Deutsche Bahn, Hochtief and many more had projects in Qatar even before the World Cup was awarded," the 79-year-old added.
Wulf, who was German president in 2010-12, denied trying to influence the World Cup vote in his book.
READ MORE: FIFA suspends 2026 World Cup bidding amid corruption scandal
According to former DFB head, Theo Zwanziger, the country's president only asked him about Qatar's chances, but never recommended voting for the Gulf state.
Franz Beckenbauer, who was a FIFA executive committee member from Germany at the time, has never revealed which country he gave his vote for.
French sports legend and head of Europe's football governing body, UEFA, Michel Platini, has repeatedly stated that "neither Sarkozy nor anyone" asked him to vote for Qatar.
However, he confirmed that Sarkozy and he have once attended a lunch with Qatari representative.
"It's true that, when I was invited for a lunch in private with the president and I found myself with Qataris, I understood that there was a subliminal message. But I've never been asked to vote for them," Platini told L'Equipe paper.
Blatter, was re-elected as FIFA president for fifth term this May, but soon said that he'll be leaving his position after his successor is elected sometime between December 2015 and March 2016.
The announcement was made amid a massive corruption scandal at in the football's governing body, which was prompted by a wave of accusations against senior FIFA figures.
READ MORE: US asks for extradition of 7 FIFA officials - Swiss authorities
Fourteen FIFA-linked officials and businessmen have been accused by the US of bribery, fraud and money laundering worth more than $150 million.
Several arrests were made in a Zurich hotel where they had gathered ahead of the organization's general meeting. American investigators now push for their extradition.
Swiss prosecutors are also investigating the awarding of the World Cups 2018 and 2022 to Russia and Qatar, respectively, to ascertain whether the votes were clean and legal.
Blatter himself has not been accused of any crime, but he still retained an attorney and decided to limit his travel plans.
"I won't take any travel risks until everything has been cleared up," he said.
The FIFA boss won't be attending the women's World Cup final in Vancouver, Canada on Sunday.
However, he promised to arrive in Saint Petersburg on July 25 for the European draw of the Russia 2018 qualification tournament.