Football legend Maradona to run for next FIFA president - report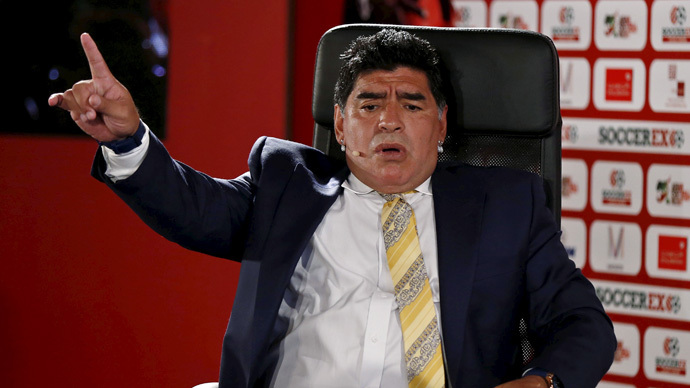 Legendary Argentine football player and coach Diego Maradona says he will run for the presidency of the International Federation of Association Footbal (FIFA), a journalist close to the star says.
"He told me he would be a candidate for president of FIFA and authorized me to communicate it," Uruguayan journalist Victor Hugo Morales tweeted. Morales says he initially called Maradona to check how his sick father was doing.
Llamé a Diego Maradona para ver cómo estaba su papá. Me contó que iba a ser candidato a presidente de la FIFA y me autorizó a comunicarlo.

— Víctor Hugo Morales (@vh590) June 22, 2015
Maradona has been a harsh critic of incumbent FIFA president, 79-year-old Swiss Sepp Blatter. Blatter is under enormous pressure from investigations into claims of corruption by the FBI and Swiss authorities. The scandal, which has already led to charges against 18 senior FIFA officials, has forced Blatter to announce he would resign soon. He made the announcement just days after defiantly winning his fifth term as FIFA president in late May.
READ MORE: Interpol suspends €20 million agreement with FIFA amid corruption probe
Blatter will stay acting president until a successor is chosen between December 2015 and March 2016 - and Diego Maradona could be that successor.
Maradona is one of the most controversial figures in the history of football. The 54-year-old has played for seven football clubs and Argentina's national team, scoring over 250 goals through his senior career. He has set two transfer fee records: £5 million (US$7.9 million) in 1982 and £6.9 million in 1984.
He was also addicted to cocaine for almost two decades, which had him suspended for 15 months in 1991 after he failed a drug test. He overcame the addiction in 2005, but it caused him heart problems.
After retiring from the field, he managed several football teams, including Argentina's national squad. His latest job was managing the Dubai-based club Al Wasl.
Maradona, a fat cheat with a drug habit, wants to head FIFA. He sounds overqualified, if anything http://t.co/G1cmbKr9le

— Peter Leonard (@pete_leonard) June 22, 2015
Maradona's eccentricities, combined with his apparent intention to run for FIFA president, have already caught the attention of sports and social media. Many disapprove of his candidacy, while other mocked his ways: an article in the Mirror lists a number of Maradona's personal quirks which he may turn into rules should he win, like giving a kiss to every player before they enter the field, or having the Pope as his right hand man.
The election of a new president is expected to take place at an extraordinary FIFA gathering, but no official date has been set yet. Mid-December has been reported as the likely time frame, but a final decision on the date is not expected until July.