I​nterpol suspends €20 million agreement with FIFA amid corruption probe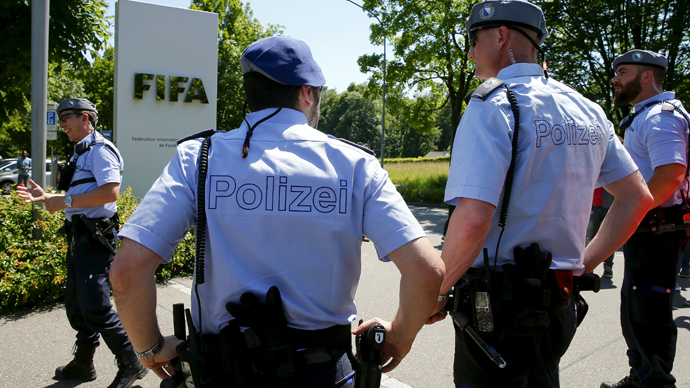 Interpol has announced it is suspending a €20-million agreement with FIFA in the wake of the massive ongoing investigation into corruption at world football's governing body.
Interpol and FIFA struck a deal in May 2011, according to which FIFA pledged to contribute €20 million over 10 years to Interpol's Integrity in Sport programme. This focused on "a global training, education and prevention initiative with a focus on match-fixing as well as irregular and illegal betting,"according to an Interpol statement.
INTERPOL suspends its agreement with #FIFA following #corruption investigations against #football governing body http://t.co/HiuvRgmTYN

— INTERPOL (@INTERPOL_HQ) June 12, 2015
"In light of the current context surrounding FIFA, while INTERPOL is still committed to developing our Integrity in Sport programme, I have decided to suspend the agreement,"said Interpol Secretary General Jürgen Stock on Friday.
The world police body added it will "freeze the use of financial contributions from FIFA."
"All external partners, whether public or private, must share the fundamental values and principles of the organization, as well as those of the wider law enforcement community," added Stock.
In 2014, Interpol received €1.7 million from world football's governing body.
READ MORE: 2 FIFA ex-officials & 4 business execs put on Interpol wanted list on corruption charges
Earlier this month, Interpol said it had slapped red notices on former FIFA officials and corporate executives at the request of US authorities. The FIFA former officials and executives are implicated in "charges including racketeering, conspiracy and corruption," Interpol said.
A massive corruption scandal rocked FIFA on May 27, which was prompted by a wave of accusations against the organization's senior figures just days before the vote.
READ MORE: Blatter 'shocked' by US action against FIFA
Fourteen FIFA-linked officials and businessmen have been accused by the US of bribery, fraud and money laundering. Several were arrested in a Zurich hotel, where they had gathered ahead of the body's general meeting.
You can share this story on social media: