Kerry on Iran talks: There are 'difficult issues,' US is prepared to walk away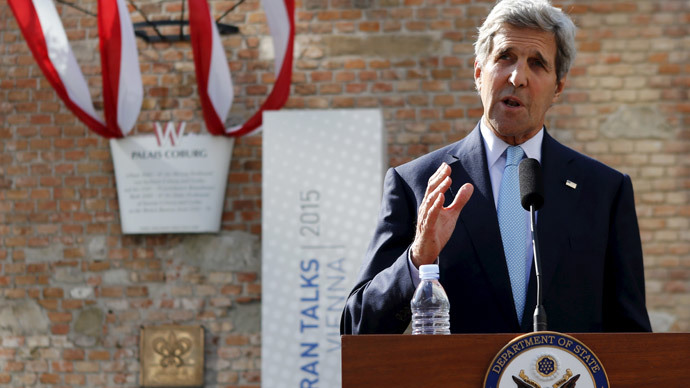 The six world powers and Iran "have never been closer" to a deal, US Secretary of State John Kerry said Sunday, but warned there still were a number of unresolved issues that might make the ongoing negotiations "go either way."
Having pointed out that "genuine progress" has been made at the talks over the past few days, Kerry said he still wanted to make it clear and emphasize that "we are not yet where we need to be on several of the most difficult issues" that still need to be resolved.
"If hard choices are made quickly in the next couple of days, we could get an agreement this week. But if they are not made - we will not," Kerry told reporters in Vienna, adding that although the final accord has "never been closer, at this point this negotiation could go either way."
Foreign ministers will be returning to the Austrian capital for the talks on Sunday evening, and all the teams "remain very hard at work," Kerry said, adding that "we want only a good agreement."
"If we don't have a deal, if there is absolute intransigence and unwillingness to move on the things that are important... President Obama has always said we'll be prepared to walk away," the US top official said, adding, "It's not what anybody wants."
Referring to the US president, Kerry explained that "the four pathways to the potential of a bomb" must be closed off, and the Iranian counterparts have been working hard in order to do so.
READ MORE: Tentative agreement on sanctions relief for Iran reached in Vienna - sources
"There is a lot of speculation," Kerry told reporters, but said that negotiations will continue behind closed doors, "privately and quietly." The deadline, which has already been extended to July 7, remains as such, the US official said.
On Saturday, there have been reports that a tentative agreement on sanctions relief for Tehran has been reached between the mediators. Saying that sanctions has been one of the most difficult issues at the talks, a document on what restrictions will be lifted and when has finally been agreed upon, diplomatic sources told AP. Iranian media denied those reports.
READ MORE: Iran, P5+1 world powers extend nuclear talks deadline by a week
Saying that there are only 72 hours until the negotiations "are supposed to end," France's Foreign Minister, Laurent Fabius, urged Iran to make commitments on unresolved issues, Reuters reported on Sunday.
"The principle question is to see whether Iran will accept to make clear commitments on what has not been clarified. We hope so," the French official said, adding that his country's attitude remained "as always [a] constructive firmness."
According to the Iranian side, a number of issues have been resolved, but some important topics still need to be agreed upon. "There are four or five issues that remain including the important topic of ensuring both sides' steps correspond to each other and happen at the same time," Iranian Deputy Foreign Minister Abbas Araqchi was quoted as saying by the ISNA agency.
#Iran deploys new long-range radar days ahead of nuke talks deadline (VIDEO) http://t.co/fe9xESz6eUpic.twitter.com/UJUMOHaKJ8

— RT (@RT_com) July 5, 2015
The Iranian Foreign Minister has also said that some differences still remain between Iran and the six powers.
"Still nothing is clear ... some differences remain and we are trying and working hard," Mohammad Javad Zarif told reporters.
Iran and the so-called P5+1 group - the five permanent members of UN Security Council: Britain, France, Russia, China and the US, plus Germany, are now discussing the possibility of issuing a UN Security Council statement immediately after reaching a nuclear deal, Sputnik reported Sunday, citing a source close to the negotiating process.
"One of the sticking points now is whether at least a UNSC statement, not a resolution, will be issued immediately after the deal is reached," the agency cited its source as saying.
This is a bad deal. It is not less bad – in my opinion it is worse – than the deal with N. Korea that led to a nuclear arsenal in N. Korea.

— בנימין נתניהו (@netanyahu) July 5, 2015
Israel's PM Benjamin Netanyahu, a longstanding opponent of the talks aimed at ensuring the peaceful nature of Iran's nuclear program, has once again condemned the negotiations on Sunday.
Speaking at a weekly cabinet meeting, Netanyahu said the progress the western powers and Iran had made in Vienna was not a "breakthrough but rather a breakdown," AP reported.
The emerging deal could be worse than one that led to North Korea gaining an arsenal of nuclear weapons, Netanyahu said.
You can share this story on social media: