Forget bulls, Spaniards wrestle horses for fun too (VIDEO)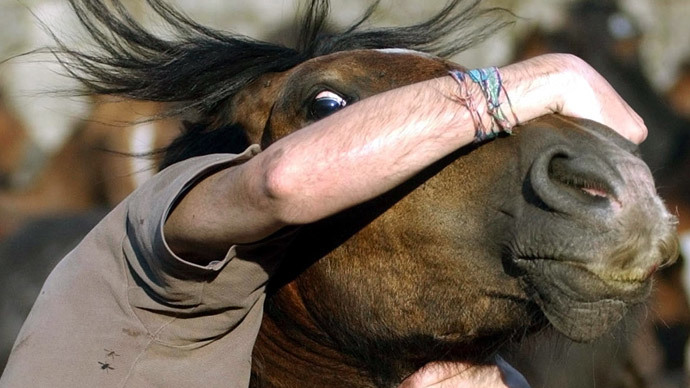 Hundreds of wild horses have been forced into hair-cuts this weekend in the Spanish village of Sabucedo, where locals have herded the animals from the mountains to fight them at a controversial festival called "Rapa das Bestas" (Cropping of the Beasts).
The traditional event dates back centuries and happens every year from Saturday to Monday in the first week of July in the Galician village in northwestern Spain.
Entran as #bestas en #sabucedo. Benvidas!!! pic.twitter.com/Jg5x3yvBq6

— Rapa das Bestas (@Rapa_Sabucedo) July 4, 2015
Wild horses are herded from the mountains into the village, where they are rounded up and wrestled to the ground. The tradition is seen by locals as a test of strength and will.
READ MORE: Animals in France finally recognized as 'living, sentient beings'
The fighters (both men and women) work in teams of three to force the animals into submission, and then trim their manes and tails.

Oye, @ljaviersc no tenías que ir al peluquero? Hoy había descuentos en #Sabucedo#Galicia en la "Rapa das bestas"... pic.twitter.com/kzvj0NmkLN

— Josto Maffeo (@JostoMaffeo) July 4, 2015
"This tradition promotes body to body fighting, without a leash – man against horse, in a noble way. Of course there is no intention of mistreating, it's just power against power, to see what happens," Michel Tourino, a participant in the event, told Ruptly video news agency.
Da comezo o segundo curro do ano. #rapadasbestas#sabucedopic.twitter.com/abKNuF9rI1

— Rapa das Bestas (@Rapa_Sabucedo) July 5, 2015
While hundreds of visitors gather in the village to watch and cheer the wild animals being overpowered, such treatment of horses is considered animal abuse by a number of organizations, including PETA (People for the Ethical Treatment of Animals). In some US states, horse wrestling is legally classified as animal cruelty and punishable by a prison sentence.
READ MORE: Four more injured in annual Pamplona bull-run (VIDEO, PHOTOS)
Meanwhile, with one of the most famous events involving animals approaching, the Spanish bull-running festival, activists took to the streets to protest against the traditional event.
Activists Spain: 'Pamplona's streets are stained with Bulls' blood'. You go #PETA, you go. Brilliant. #AnimalAbusepic.twitter.com/W9NSmB0wGM

— Gergana Krasteva (@g_krasteva) July 4, 2015
Around a hundred activists, including PETA supporters, marched half-naked, covered in fake blood on Saturday, protesting the upcoming bull-run in the Spanish city of Pamplona that gathers thousands annually, The Local reported.
Protesters held signs reading "Pamplona's streets are stained with bull's blood" in several languages. The annual Spanish festival features daredevils running through the streets of Pamplona alongside bulls, and finally arriving in an arena where the animals are killed in traditional bullfights.