​Hundreds in new Tel Aviv protest over US-Israeli natural gas deal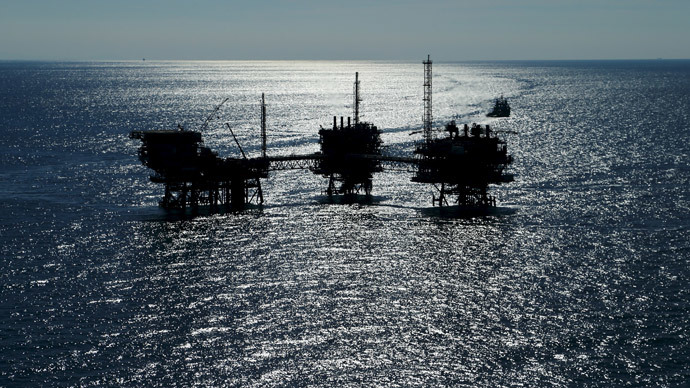 Hundreds have rallied in Tel Aviv to protest over a proposed gas deal with the United States pushed by the government, which critics say may create a monopoly that will control two of Israel's largest natural gas reserves.
The protesters marched from Habima Square down to the government offices on Kaplan street on Saturday evening, while smaller protests were also held elsewhere, in Jerusalem, Kiryat Shmona and Beersheba.
The event follows another last week, when thousands took to the streets of Tel Aviv in a mildly violent show of protest against an impending natural gas deal between the Netanyahu government and a US-Israeli conglomerate entrusted with tapping into the country's reserves.
America's Noble Energy and Israel's Delek Group, in the event of the deal, will get access to the Tamar and Levianthan offshore sites – something the people say is tantamount to "robbery," The Times of Israel reported.
http://t.co/vY4XbUKXzD Thousands take to Tel Aviv streets to pr @INSubcontinent#INSubcontinent#Worldpic.twitter.com/LEQ2XujXtX

— Ecroaker (@Ecroaker) July 5, 2015
The pair also wants access to two smaller, recently-discovered reserves.
Last year, the two were branded a de facto monopoly by Israel's Antitrust Commissioner David Gilo, who has since resigned over the issue.
Critics of the deal argue that, once approved, the deal could establish a monopoly over natural gas without any sufficient oversight and would result in increased prices for Israeli consumers.
The situation started with the energy companies finding an exorbitant amount of natural gas and beginning to invest hugely into developing the offshore reserves. But Israel then quickly backtracked and started setting up committees to monitor the profits and setting up additional hoops for the companies to jump through.
Last Sunday, the government overruled a call from the country's regulatory agency that called for the dominance of the gas corporations to be curtailed. A parliamentary vote on the deal was expected Monday, but was delayed after Prime Minister Benjamin Netanyahu's failure to garner enough support in the Knesset to pass the bill.
Netanyahu addressed the nation shortly before the previous protest, promising that the deal would not usher in a monopoly, and that the government is "promoting a realistic solution that will bring natural gas to the Israeli market and not a populist solution that will leave the gas in the depths of the earth."
"This dismantles the monopoly and will bring in the coming decades hundreds of millions of shekels for education, welfare, health and for every Israeli citizen," Netanyahu said a week ago.