Assange writes open letter to Hollande, Paris rules out asylum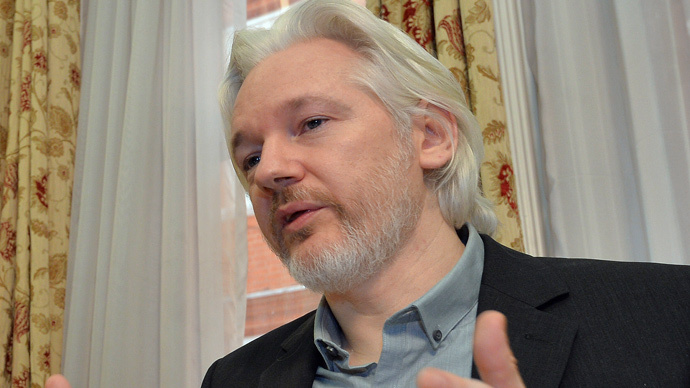 WikiLeaks founder Julian Assange has written an open letter to France's President Hollande, implying he would like to get political asylum in France. However, the Elysee Palace promptly rejected the possibility.
In an open letter to French President Francois Hollande published by Le Monde, the fugitive transparency activist said he is a victim of persecution by the US government over exposure of its human rights violations and controversial practices.
Julian Assange : « Monsieur Hollande, accueillez-moi en France » http://t.co/Bqhnv9Jnyfpic.twitter.com/ec6UhU3Qyg

— Le Monde (@lemondefr) July 3, 2015
"For the simple fact of publishing information meriting public interest that whistleblowers had passed to WikiLeaks, I am personally prosecuted for espionage, conspiracy, theft or compromise of confidential US government information and computer violations, risking life imprisonment or worse," he said.
Assange added that Ecuador had probably saved his life by giving him sanctuary inside its embassy in London, thus protecting from extradition. The activist has spent over three years inside the embassy since June 2012.
#WikiLeaks releases docs claiming #NSA spied on last three French presidents http://t.co/Qa50JJZUHzpic.twitter.com/ZvHmkTRdhL

— RT America (@RT_America) June 23, 2015
He welcomed the public statements by French Justice Minister Christiane Taubira, who said that Assange may be granted political asylum in France. Such a gesture would be humanitarian and symbolic in nature, sending a message of encouragement to journalists and whistleblowers who take risks to reveal the truth, he believes.
Snowden & Assange could get 'symbolic' asylum offers from France following NSA spying scandal http://t.co/2uKhbN5xinpic.twitter.com/X1FNgDnrzl

— RT UK (@RTUKnews) June 26, 2015
The letter was published on Friday, Assange's 43rd birthday.
However, the request was rejected by Paris less than an hour after the letter's publication.
"After a comprehensive study [of the letter] it became apparent that Mr. Assange's legal grounds and material situation do not allow France to satisfy his request," the Elysee Palace said in a statement, saying that his life is not in danger and that there is an international arrest warrant in his name.
The swift development sparked a wave of comments on social media. Assange critics branded the move an 'opportunistic' attempt to get asylum in France while his supporters blasted Paris for 'playing US lapdog' in the situation.
Opportunist Julian #Assange now asks France for asylum from evil Sweden. Application immediately REFUSED. #auspolhttp://t.co/dWnCnMwg7G

— Sandra K Eckersley (@SandraEckersley) July 3, 2015
Keep spying on us, America! We will always be your lapdog. ♥ Love, France https://t.co/3lmbDzZllk

— M (@m_cetera) July 3, 2015
#France refuses to grant political asylum to Julian #Assange after, and I quote, ' a review approndi " of its... http://t.co/BN0GoO3zki

— The Lulz Boat (@Anon_Universal) July 3, 2015
WikiLeaks published scores of classified documents including those detailing US surveillance on top French officials, including three consequent French presidents. Washington denied such activities ever happened, but the publications sparked a political scandal in France.