Soyuz rocket blasts Progress cargo ship on way to resupply ISS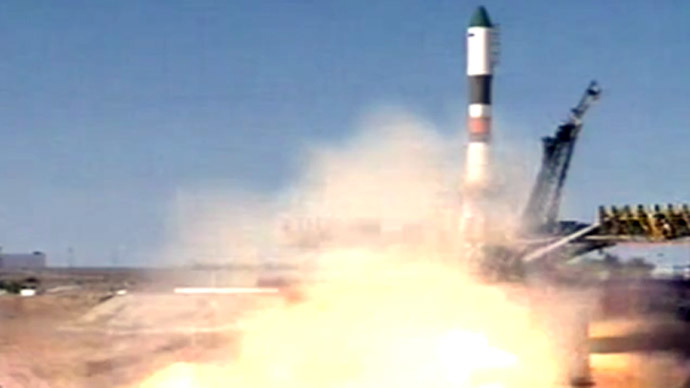 A Russian Soyuz rocket has successfully lifted the 60th Progress transport cargo spacecraft into space from the Baikonur Cosmodrome in Kazakhstan, launching it on a mission to resupply the International Space Station.
READ MORE: Russian cosmonaut Padalka sets world spaceflight duration record
The Progress M-27M is due to deliver more than 3 tons of food, fuel and supplies to the Expedition-44 crew.
Although the three men on board the ISS – Gennady Padalka, Mikhail Korniyenko and Scott Kelly – have enough supplies to last them until autumn, the arrival of the cargo ship is crucial.
Two previous missions to deliver supplies to ISS were unsuccessful, resulting in the loss of the ships and their cargo.
At the end of June, an unmanned Falcon 9 rocket carrying more than two tons of supplies exploded shortly after lifting off from Cape Canaveral.
READ MORE: Rockets in ruins: Spectacular unmanned spaceship crashes (VIDEOS)
In April, the Russian Progress vessel entered the 'wrong' orbit and ended up in an uncontrolled spin around the earth, making docking at the International Space Station (ISS) 'impossible'.
This time the cargo ship was taken into space by a different type of booster – the Soyuz U.
It will take a longer route than usual and reach ISS on July 5.
It is carrying 1,940 pounds of propellant, 106 pounds of oxygen, 926 pounds of water and 3,133 pounds of crew supplies and research equipment.