​Russian cosmonaut Padalka sets world spaceflight duration record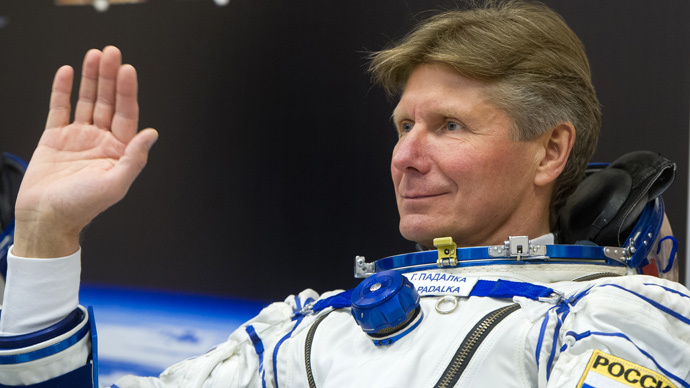 On Monday, Russian cosmonaut Gennady Padalka broke the world record for the longest time in space. When he returns to Earth this fall, he will have spent 877 days in orbit, eclipsing the record set by his colleague Sergey Krikalev 10 years ago.
In August 1998, Gennady Padalka embarked on his first journey through space as the commander of the Soyuz TM-28 spacecraft. During the flight he made one spacewalk and one transfer to the Spektr depressurized module. These operations lasted 6 hours 26 minutes.
Seventeen years have passed and on March 27, a three-man crew – spacecraft commander Gennady Padalka, flight-engineer Mikhail Kornienko and NASA astronaut Scott Kelly – flew up to the International Space Station on a Russian Soyuz spacecraft from the Baikonur Cosmodrome in Kazakhstan.
This mission, Padalka's fifth, marked a special event in his career, alongside a significant landmark in human history: at 01:42 Moscow time, the Russian cosmonaut broke the record for the most days spent in space.
Congrats to my crewmate Gennady Padalka for surpassing the record of 803 days in space- Genna has been in space more than any human!

— Terry W. Virts (@AstroTerry) 28 июня 2015
Gennady Padalka will return to Earth in September, becoming the world's most experienced spaceman in the process, clocking up nearly two and a half years in space.
You think you travel a lot? Gennady Padalka, a cosmonaut at #ISS, has traveled 546 mn kms in 804 days (new record for time spent in space)!

— Eklavya Sinha (@eklavyasinha) 28 июня 2015
In 2005, Colonel Padalka, a top gun Russian Air Force pilot, was the first to go to the North Pole in a balloon.
"I don't believe in omens," said Gennady in an Esquire magazine interview. "My lucky number is 13. My third daughter was born on October 13. I flew up on August 13. During a prelaunch medical check I was a thirteenth."