'Wow, pulled back wrong side throttle': Taiwanese pilot accidentally turned off engine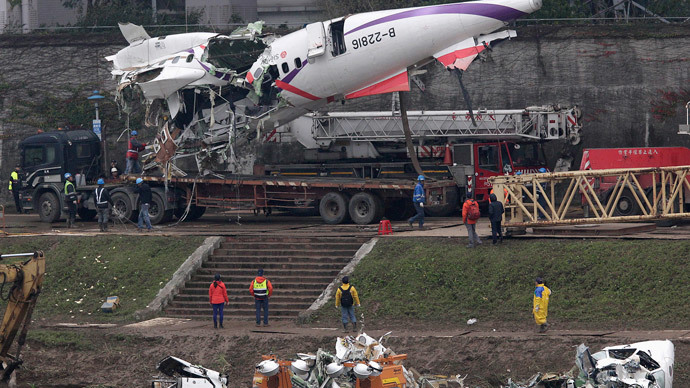 The pilot of TransAsia flight GE235 inadvertently switched off his plane's only working engine, making a crash inevitable, Taiwan's Aviation Safety Council confirmed in its latest report. Forty-three people died in the Taipei tragedy in February.
The council's report, released Thursday, revealed the last words of Captain Liao Jian-zong: "Wow, pulled back the wrong side throttle." Seconds later, flight GE235 plunged into the Keelung River of Taiwan's capital.
Liao and his co-pilot apparently wanted to restart the second engine that seemed to have lost power three minutes into the flight. Instead, the captain shut off the engine which had remained working.
"There was some sound next to me. It did not feel right shortly after take-off. The engine did not feel right," Huang Jin-sun, one of the survivors told a local TV station ETTTV.
"If engine two has flamed out, you would shut off engine two, that's normal logic," Taiwan's Aviation Safety Council Executive Director Thomas Wang told a news conference, pointing out that the decision itself was correct.
The report also says that Captain Liao had failed simulator training in May, 2014, as he did know what to do when an engine flames out on take-off. Despite this failure, he managed to pass the test a month later and was promoted to a captain in August, 2014.
Instructors described Liao as a man "prone to be nervous and may make oral errors during the engine start procedure." According to the report, he lacked confidence and was nervous.
A final report determining the cause of the crash will be released in the coming months; its draft is to be released on November.
TransAsia flight GE235 crashed in Taipei on February 4, 2015. The plane clipped the motorway and a taxi and fell into the river. Forty-three people were killed and 15 injured, including two on the ground.