​'100 killed' in ISIS attacks on Egyptian checkpoints in Sinai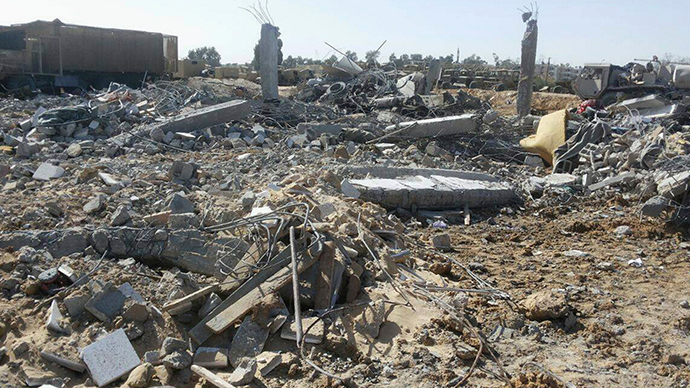 At least 100 Egyptians, including soldiers, were killed after an Islamic State affiliate launched simultaneous attacks on army checkpoints in the Sinai Peninsula, officials said. It comes two days after Egypt's top prosecutor was assassinated.
The identities of those killed were not immediately clear, Reuters reported. Sources earlier said there were soldiers among the dead. The army also said that troops have been killed.
The assaults took place just south of the town of Sheikh Zuweid and targeted at least six military checkpoints, officials told AP. Two of the checkpoints were completely destroyed.
The militants took soldiers captive and seized weapons and several armored vehicles, the officials added, stating that the attackers used mortars, rocket-propelled grenades and assault rifles.
Egypt's armed forces say at least 100 militants and 17 soldiers were killed, Reuters reports. One security source cited by the agency said about 300 militants took part in the attack.
Meanwhile, Egypt's military spokesman, Brig. Gen. Mohammed Samir, put the number of killed soldiers at 10. Samir's statement, posted on his official Facebook page, said that about 70 militants attacked five checkpoints in northern Sinai, and that Egyptian troops killed 22 of them. He said soldiers destroyed three all-terrain vehicles fitted with anti-aircraft guns.
Luxor terror attack: 'Change in #ISIS strategy- soft target course' (Op-Edge) http://t.co/4AjJ3bbfCipic.twitter.com/uyO4e22cpy

— RT (@RT_com) June 11, 2015
Al Jazeera reported that at least 35 were killed, citing security sources and witnesses.
Islamic State's Egypt affiliate, Sinai Province, has claimed responsibility for the Wednesday attacks, according to a statement on Twitter. The group said it attacked more than 15 security sites, and carried out three suicide blasts.
Militants in northern Sinai have battled security forces for years, but intensified their attacks following the ouster of Islamist President Mohammed Morsi in July 2013.
The attacks come just two days after a car bomb killed Egypt's top prosecutor in Cairo. Hisham Barakat was assassinated in the capital's upscale Heliopolis neighborhood shortly after leaving his house.
ISIS beheads female civilians for the first time - monitor http://t.co/LaPIWVjoABpic.twitter.com/5dP0tPVJ6h

— RT (@RT_com) June 30, 2015
The blast also injured two of Barakat's guards and five other people, ripping through two vehicles and shattering windows in several high-rise buildings.
Egyptian President Abdel Fattah el-Sisi has pledged to seek justice for Barakat's assasination.
"The judiciary is restricted by laws, and swift justice is also restricted by laws. We will not wait for that," Sisi said. Action will be taken within days "to enable us to execute the law, and bring justice as soon as possible," he added.

The Egyptian president blamed the violence on those "issuing orders from behind bars," referring to jailed members of the Muslim Brotherhood – Egypt's oldest Islamist group, which has been outlawed and declared a terrorist organization.
"If there is a death sentence [for those imprisoned], it will be carried out," Sisi added.
You can share this story on social media: