France to Italy: Schengen border controls legal, migrants will be checked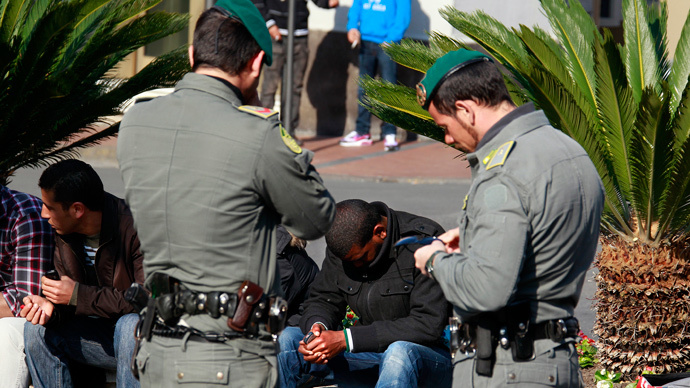 France's leading administrative court says that border controls on the boundary with Italy are legal and do not violate the Schengen agreement. Rights groups had filed a complaint supporting hundreds of migrants who were looking to cross into France.
"The suppression of systematic interior border controls in the Schengen area does not prevent French authorities from carrying out identity controls," the State Council said in a statement on Monday, as cited by AFP.
The Schengen agreement allows the free movement of people within the zone across countries who are part of the treaty. The French court said that these controls that had been implemented did not "exceed the legal framework," be it by their magnitude, frequency or implementation.
READ MORE: 60,000-migrant burden: EU leaders agree to share, but still don't know how to go about it
"These controls are thus not equivalent to the implementation of a permanent and systematic control at the French-Italian border," the statement continued.
The migrants, who number between 150 and 200 and are mostly from Africa, have been sleeping rough near the Italian border post of Ventimiglia. They have become a source of tension between the two countries. Earlier in June, the French President Francois Hollande said that the border had not been closed; rather that more stringent checks were being carried out.
"We are applying the rules," he said in reference to the Dublin agreement which obliges migrants to apply for asylum in the European country in which they first set foot, AFP reported.
However, Hollande and Italian Prime Minister Matteo Renzi have tried to also show unity and try to get the European Union to come up with a common policy in how to deal with the migrants.
READ MORE: Italy threatens EU: 'Sort out migrant mess you caused or get hurt'
This has not always been possible though, with ministers in Paris and Rome exchanging hostilities after France began turning back thousands of migrants who were trying to or had already crossed the border.
However, Hollande has mentioned that Italy needs help in trying to deal with the migrant crisis. So far the Mediterranean country has seen some 60,000 immigrants arrive on its shores in 2015. The French president rejected national quotas for resettling the migrants, saying voluntary commitments by individual states would be more effective.
"The quota system creates confusion ... and makes no sense," he said. "Every country has to say how much it can do, taking into account its specific geographic, economic and also political situation. But it's clear that every country has to make a commitment," Reuters reported.
Last Friday leaders across Europe after hours of debating agreed to create a voluntary system on how to deal with the tens of thousands of migrants who have landed across the continent, although there is no clear-cut strategy on that.
Stranded #migrants from Libya, Sudan & Eritrea pray in Ventimiglia, Italy, banned from entering France. #Ramadanpic.twitter.com/p6IAX0MntA

— The CMCG (@CMCG_LA) June 29, 2015
Dismayed at the lack of appetite shown by members of the EU to accept migrants arriving on the shores of Italy and Greece, Prime Minister Renzi said in an interview on June 14 that if leaders from the bloc did not show solidarity with Italy, Rome had a Plan B "that would be a wound inflicted on Europe."
"I cannot reveal our Plan B," Interior Minister Angelino Alfano told Sky TG24, "but if Europe is not supportive, it will find itself dealing with a different Italy. We will not accept a selfish Europe."
READ MORE: Neither Britain nor Europe are helping France's Calais over migrant crisis – city mayor to RT
Paradoxically, Paris is actually experiencing similar problems on its own soil that the Italians have been dealing with. France has its own migrant problem, with around 3,000 camped outside the port of Calais in appalling conditions, as they try to enter the United Kingdom.
In an interview with RT, the mayor of Calais scolded London for shirking its responsibilities.
"Britain has obligations, but it doesn't fulfill them. Maybe British authorities are going to spend 15 million euro in the next three years to solve this problem, but in fact this money will not help the situation in our region at all," Calais Mayor Natacha Bouchart told RT in an exclusive interview.
Recently, Britain came under fire from leaders of other European states and the UN for refusing to accept its share of migrants crossing the Mediterranean Sea. Having emotionally blamed the UK for rejecting its share of migrants, Italian PM Matteo Renzi said the country wasn't "worthy of calling ...[itself] Europe."
"David Cameron's government should open a center for refugees on the territory of Great Britain," Bouchart told RT. Other Calais officials have previously accused UK of being "blind and hypocritical" in its approach to migration.
You can share this story on social media: